In most homes, the bedroom is ones sanctuary. It's where you go to retreat from your day or the hustle and bustle in the common areas; whether your live in a shared home with friends or a family home with kids. If you were to ask me for the one key element to a cosy bedroom, it would be layer, layer, layer!
Colour resonates differently with everyone, so you need to decide which palette is the one for you. While some may think that light colours are stark and sterile, they are great for opening up a space and making it feel larger. A light and bright room can resemble a luxurious day at the spa, and can even seem like you're adrift in the clouds, weightless. On the other hand, darker hues cocoon the bedroom creating the perfect subdued space to retreat and rest. Perhaps you're the type of person that prefers the perfect balance of light and dark, gravitating towards soft muted neutrals. This colour palette has a calming effect, but remember, this doesn't mean it has to be boring; bring in layers of texture, pattern and metallic accents to add some personality.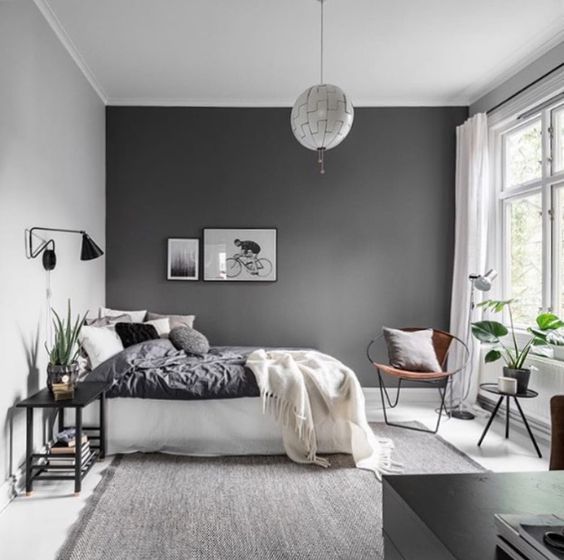 Photo: Pinterest – Melissa Spiering
Lighting can make all the difference in a room. To create your ultimate relaxation nook, keep lighting soft; avoid using hard overhead lighting if possible. Add some nice bedside lamps and a floor lamp over a chair that let off pockets of soft defused light to enhance the space. Don't forget to consider your window treatments and privacy. Invest in neutral window dressings so they match your bedrooms style no matter how often you change the look. Adding a soft sheer that can be pulled separately to curtains allows you to diffuse any harsh sunlight and add a sense of privacy without blocking yourself off completely from the outside world.
Regardless of your colour palette, your next task is to add depth! Regardless of whether your floors are hardwood or carpet, rugs are a great way to incorporate texture, colour and importantly warmth under foot. If there's one thing you should invest money in, it's bedding. Whether your preference is Egyptian Cotton or Stonewashed Flax, quality bed linen will make it hard to get out of bed in the mornings. Layer the bed with blankets and pillows, what's comfier than a pile of soft and inviting cushions? Mix up your textures and patterns, but be mindful of colour choices; a cohesive colour palette will tie the patterns together and keep the space harmonious. Not only will this make the bed look more inviting, but it makes the space functional without having to physically get into bed if you just want to escape into a book.