The master bedroom, your escape haven and that little slice of luxury (well it should be anyway!). Arguably one of the most important rooms in the house and the room that sells.
In terms of styling a master bedroom, normally the room has a fairly neutral to dark pallet. Shades of brown or grey work quite well for paint and a feature wall behind the bed can add contrast and make a real statement. Current trends are a little bit industrial and quite minimalist, think hanging light fittings either side of the bed with simple bedside tables. Beds tend to be sitting lower to the ground with big over-sized plain duvets.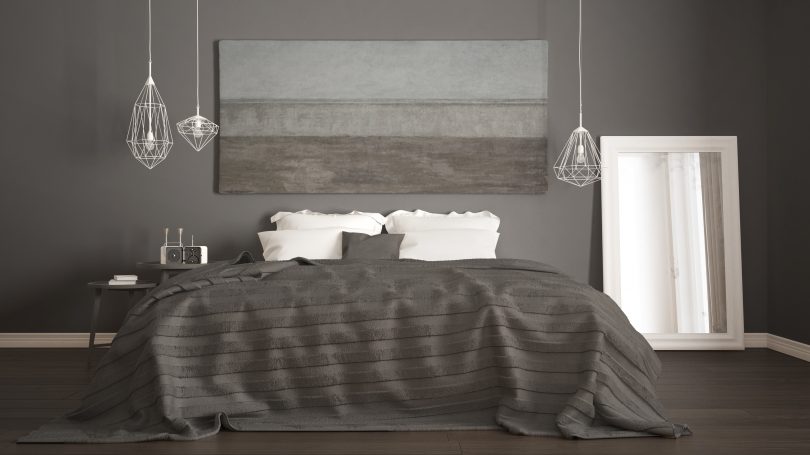 For the flooring, keep it consistent with the rest of the house- pick either hard flooring or carpet and carry the same flooring through all the bedrooms.
Here are our flooring recommendations to create the winning master bedroom
SmartStrand Ingenious Flair, Elephant                   SmartStrand Natural Decoration, Orion
Hard Flooring
There are plenty of options available to suit the desired look you are going for. The 'wood floor' look seems to be more and more popular in bedrooms. The beauty of current technology in flooring allows many materials to provide the 'wood look' without the cost of real wood. People tend to stay away from hard flooring in the belatra bedrooms because they are worried about loss of warmth however, if insulated properly with the right underlay this can be minimised. Vinyl and vinyl planking are both great options for achieving this.
Texline Comfort, Empire Dark Grey                          Scandia, Malmo
Head into your nearest store to ask any of our friendly staff for further information about these products or alternatively visit our website carpetcourt.nz
#bedroom #carpet #hard flooring #master bedroom #smartstrand #style #the block #winning look