Shopping for carpet can be very overwhelming if you don't know a thing about it – it's our job to make that easier for you! Find out what is the best carpet for your renovation needs.
Below is information about the most popular carpet styles and carpet fibres to help make your decision easier. Don't forget you can always chat to our knowledgeable staff instore and they will be more than happy to help you.
Carpet Styles, Texture & Materials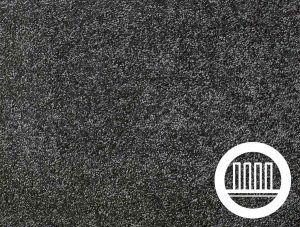 Cut Pile
Cut pile carpet is the most popular choice for residential homes because they come in a wide range of styles from the classic valour look through to long shag piles, and everything in between. Cut pile carpets are manufactured by cutting the yarn loops which produces an upright pile that has a more luxurious, formal look than loop pile.
View our Cut Pile Carpets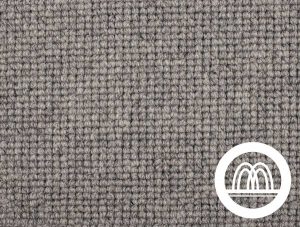 Loop Pile
Loop pile carpets have come a long way from the traditional berber looks of the past and now come in a variety of patterns and modern textures that will suit most homes. Loop piles tend to hide their wear better and therefore perform better in commercial applications.
View our Loop Pile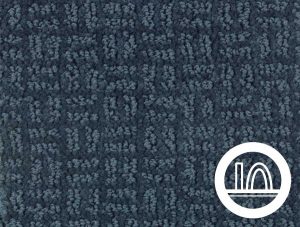 Cut & Loop Pile
These carpets have a combination of cut and looped yarns and can create sculptured and patterned effects such as squares, swirls etc. Many different patterns can be achieved in a wide range of styles.
View our Cut & Loop Pile Carpets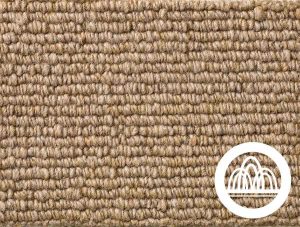 Carpet Texture
Textured carpets are one of the most popular types of carpet. This is because of the way they are made – the cut pile process combined with uneven and or twisted fibers – makes them both extremely hard wearing and less likely to show up dirt, tracks or dents.
View our Textured Carpets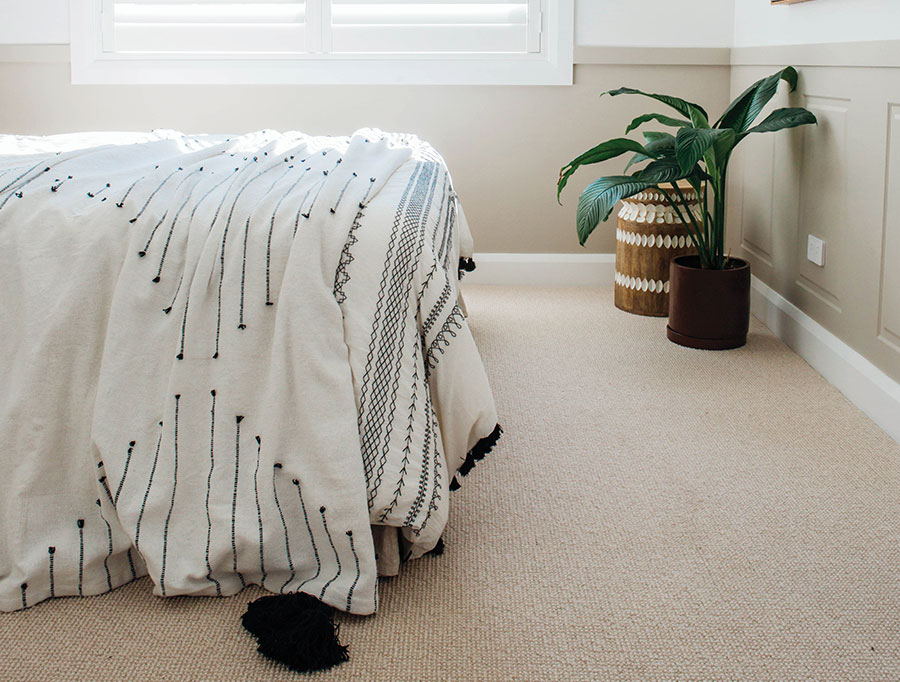 Wool Carpet
Made from natural fibres, wool carpet is warm, luxurious, durable and renewable. Wool carpets look good longer as they are resistant to crushing and general soiling, however are less stain resistant than most synthetic fibres due to it being so absorbent. Wool carpets absorb noise, are naturally flame retardant and the insulation properties mean it is cooler in Summer and warmer in Winter.  The best quality wool for carpet is from right here in New Zealand. The strong naturally bulky yarn, yet soft fibre makes great loop, texture and plush carpet that looks beautiful in any room of the house.
Wool Blends are a mix of wool and synthetic fibres usually 80% wool and 20% synthetic giving the natural and luxurious feel of wool but the added durability of synthetic. An affordable alternative for family homes and for medium to high traffic areas.
Browse our Wool Carpets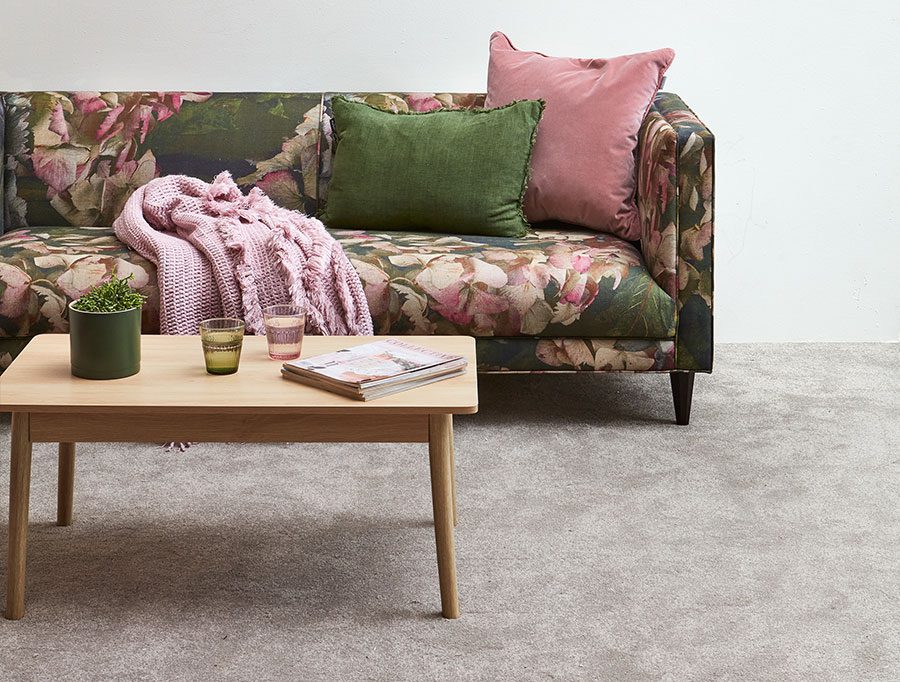 SmartStrand Carpet
SmartStrand Forever Clean features Nanoloc, an advanced nanotechnology that completely encapsulates the SmartStrand fibre to create a superior spill and soil barrier. It has no dye sites where spills could adhere, so the carpet is naturally stain resistant. With its spring-like fibre molecule shape, it  resists crushing and matting, maintaining the beauty and softness of your floor for years to come. SmartStrand Forever Clean is OEKO-TEX® certified free from harmful substances therefore you can rest easy knowing your carpet fibre is certified for a safe and healthy home.
For a truly worry-free solution, choose our Rhino Carpet. The perfect carpet for busy households with kids, pets – or clumsy adults! Find out More
Browse our SmartStrand Carpets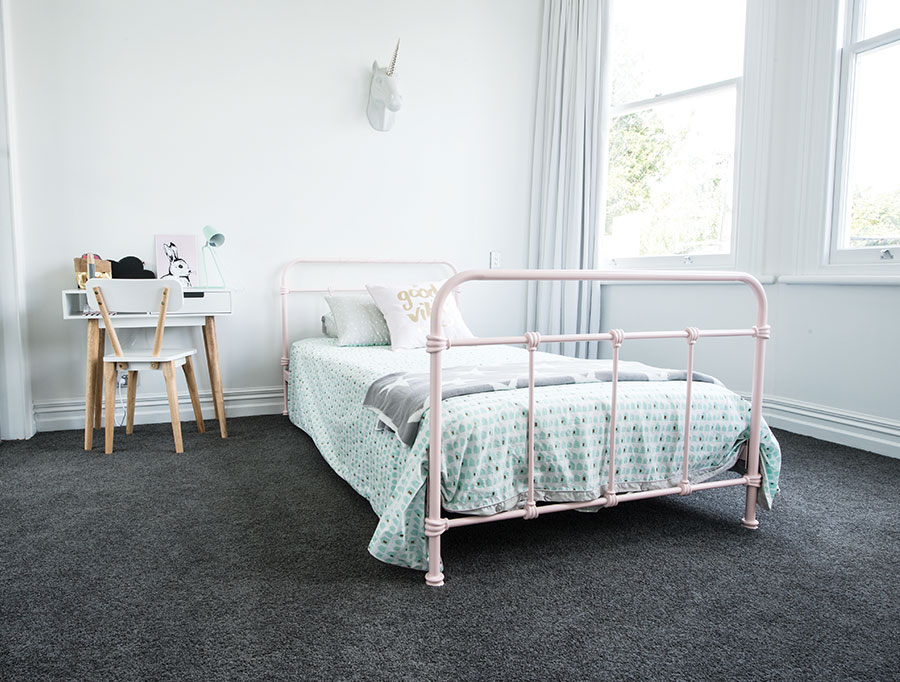 Nylon Carpet (Solution Dyed)
Solution Dyed Nylon (SDN) is a resilient carpet with great fade resistance making it a good choice for sunny New Zealand homes. With good elasticity and resilience, it stands up to heavy traffic and will retain its shape under the weight of furniture or foot traffic. SDN can be produced in a lot of different qualities and price points and will perform well even in lower weights and so is a popular fibre choice. SDN is a versatile fibre and therefore comes in many carpet styles and as dyes work exceptionally well with nylon there is a huge range of colour choice available.
Browse our Solution Dyed Nylon Carpets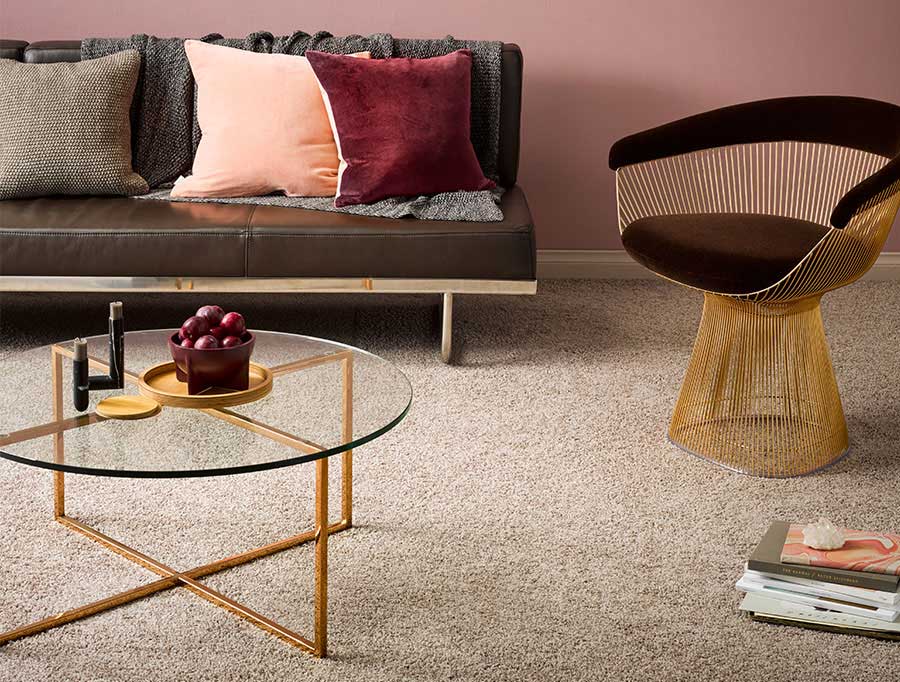 Triexta Carpet
This eco-friendly fibre is made from 37% renewable sourced polymer derived from corn sugar. This fibre has excellent colour fastness, stain resistance and pile recovery for a lovely soft feeling under your feet. Hard wearing and durable, Triexta is similar in appearance to nylon, but with a significantly softer finish and more stain resistant. The durability and softness make it kid and pet friendly and a popular choice for busy family homes.
Browse our Triexta Carpets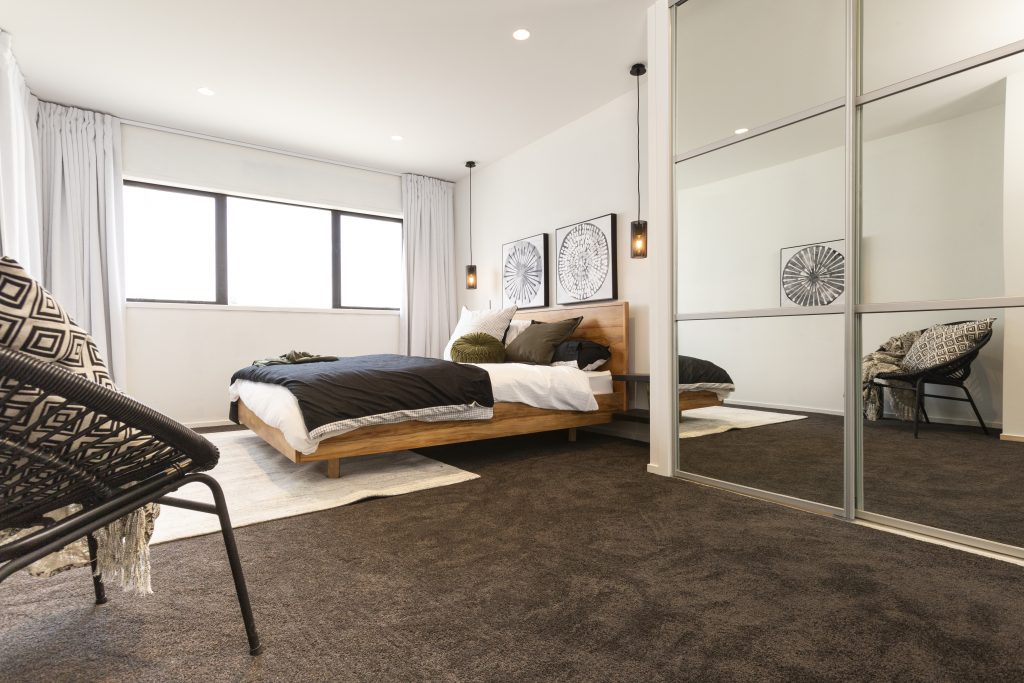 Polyester Carpet
Polyester is a great fibre if you want to produce a luxurious feel at a lower price point as it is a more affordable synthetic fibre. Polyester offers colourfastness and a rich soft feel. It provides great value for money but may have a shorter lifespan when compared to wool, triexta, nylon and SmartStrand. It is well suited for low traffic areas such as a study, guest room or a child's room or to those who want luxury at an affordable price and are not so concerned with long term performance (for example redoing your carpet before selling the house).
Browse our Polyester Carpets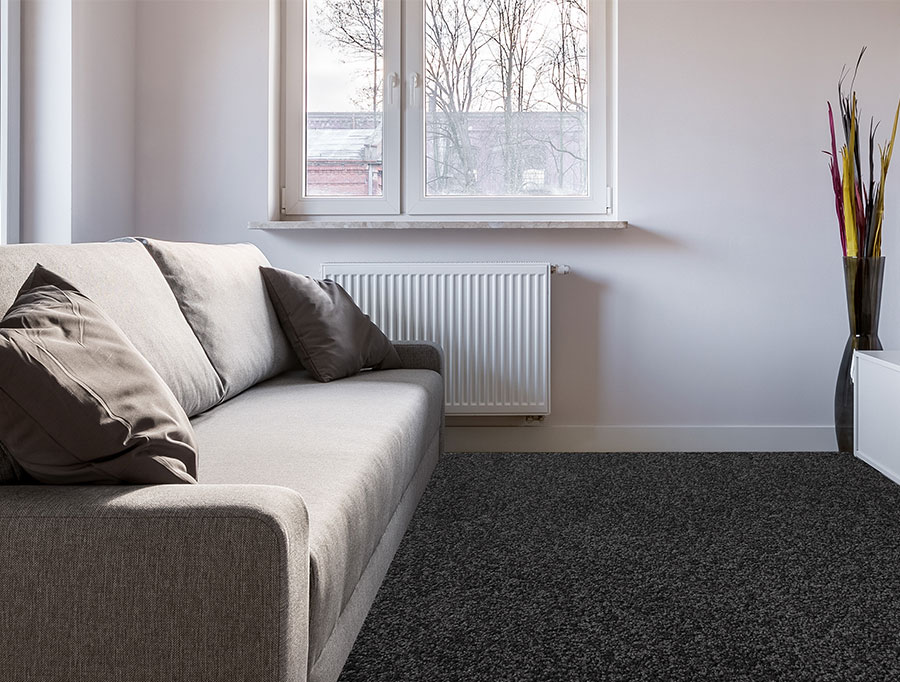 Polypropylene Carpet
Polypropylene is a lower cost synthetic option that has improved with recent developments in the manufacturing process. It provides good stain, fade, moisture and mildew resistance making it a perfect match for rental properties and play rooms. Usually manufactured into loop style carpets, they are great for low traffic areas.
Browse our Polypropylene Carpets
It's important to understand some key characteristics about carpet so you know what to expect from your carpet over time. We've summarised some of the key characteristics below to ensure you are fully informed. Please note that the manufacturer's warranties also provide further detail on these characteristics.
Colour Variation
It is normal in batch dyed products to have slight variations between both individual batches and store samples. The variation should not exceed 10%. Colour appearance can vary depending on the type of lighting conditions in which a sample is viewed and where the carpet is fitted. Viewing of the sample in your home under both day and night lighting conditions is recommended.
Footprints and Surface Marking
Some longer and plusher pile carpets will show slight depressions, scuff marks and general pile disturbance with everyday use. This is normal and will groom out with your next vacuum. This is a  characteristic of longer and plusher cut pile carpets.
High Use Areas and Hallways
All carpets will change in appearance over time, primarily due to foot traffic. Matting generally occurs as a result of pile flattening together with the entanglement of fibres tuft to tuft. It occurs in all tufted carpets to some degree, but is more likely to occur in high traffic walkways, stairs and foot agitation areas (e.g. in front of seating areas, doorways etc). Periodic professional cleaning combined with regular vacuuming will aid in minimising the amount of change in these areas.
Wrinkling or Rucking
Wrinkling may occur after installation due to excessive humidity or not using the recommended installation procedures. This is not considered to be a carpet fault and a competent installer can usually correct this problem.
Fading and Colour Change
Carpets, like all other dyed textiles, will slowly lose colour over time when exposed to direct sunlight or may appear to have faded due to pile flattening through use. Carpet should be protected from prolonged periods of direct sunlight with curtains, blinds, shades or awnings. Colour change can also occur as the result of ozone, emissions from heating fuels and air conditioners, pesticides, cleaning agents, benzol peroxide and other household items. These are not considered to be manufacturing defects and do not affect the performance of the carpet.
Shading / Watermarking
(movement in cutpile style carpets – sometimes referred to as tracking)
All cut pile carpets show movement in the pile, giving these popular styles their "take your shoes off " aesthetic. Without it your cut pile would look less soft and appealing. Just like a piece of suede, brush the pile one way and it looks darker and the other way lighter. The longer the pile the more movement you will see, and the softer it will feel. Sometimes this movement represents as a track up a hallway, sometimes as lines when newly vacuumed. This does not affect the durability or wear of the carpet and is not recognised as a fault, but as a characteristic of this style.
Footprints and Surface Marking
Some longer and plusher pile carpets will show slight depressions, scuff marks and general pile disturbance with everyday use. This is normal and will groom out with your next vacuum. This is a  characteristic of longer and plusher cut pile carpets.
Pattern Matching / Bowing and Skewing
Our suppliers use the best techniques available to minimise pattern distortion during the manufacture. However, some distortion due to shrinkage or stretch during and after manufacture is  unavoidable. Repeating patterns may not precisely match along the length or width of carpet or from one production run to another.
A professional carpet installer will be able to achieve a close pattern match in most circumstances. However, some irregularities may still be visible. If concerned, please discuss further with your sales person, store manager or carpet installer.
Missing or Damaged Tuffs
Tufts may be damaged or identified as missing following stretching of the carpet during installation, damage caused by pets scratching, or moving of furniture. In the case of loop pile carpets, tufts can be pulled from the backing resulting in long, lengthwise pulls out of the carpet. Sprouts, or snagged tufts, can be easily trimmed without damaging the carpet and missing or damaged tufts can be easily replaced by hand or by retufting. These can be readily fixed on site by a skilled installer or carpet professional.
It is recommended a small piece of spare carpet be retained to provide a source of additional tufting yarn