A kid's bedroom is their space to play, create, imagine, study, relax and of course sleep. It is a multipurpose space and so design and functionality are just as important as a kid's room décor. Kids will often have ideas on what they want their room to be like, some of which you probably won't agree with, but balance is the key to cool kids' rooms.
Here are 10 of our favourite kids' bedroom ideas packed with stylish kid's room décor, smart storage solutions, practical solutions and most importantly fun!
CHOOSE A COOL BED – OR BETTER YET, BUILD ONE!
A bed is a must for every kid's room and often becomes the centrepiece. So why not make a statement with a bed that will give your kids as much enjoyment as they do you when you see their jaws drop and their smiles light up their little faces. Plus, be bet you'll never have to argue about bedtime again.
There are plenty of cool beds out there to buy or if you are looking for something more unique like this custom DIY little yellow digger bed, you can also buy DIY bed plans.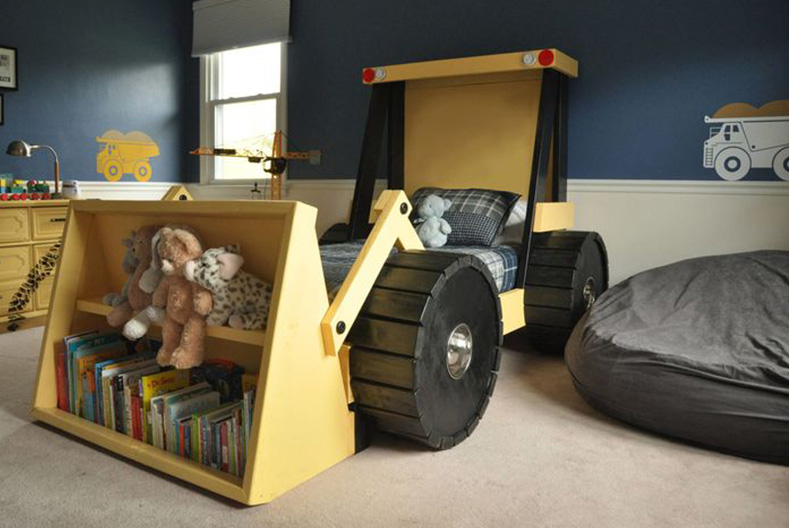 NURTURE WITH NATURE
An earthy coloured and themed small children's room with tree murals and animal themed decor elements will have your little one feeling close to the benefits of nature at any time of the day.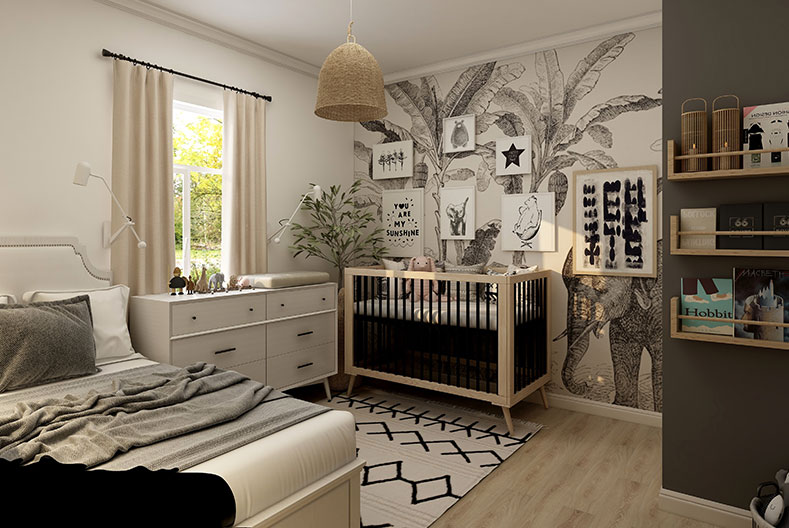 PERSONALISED FUN
Rather than looking at kids' bedroom décor as a chore and added stress make it a fun, bonding experience. Encourage your little ones to get involved so their personality and passions shine through to create a space that is uniquely theirs, just like this whimsical Mr. Fox themed kids room décor.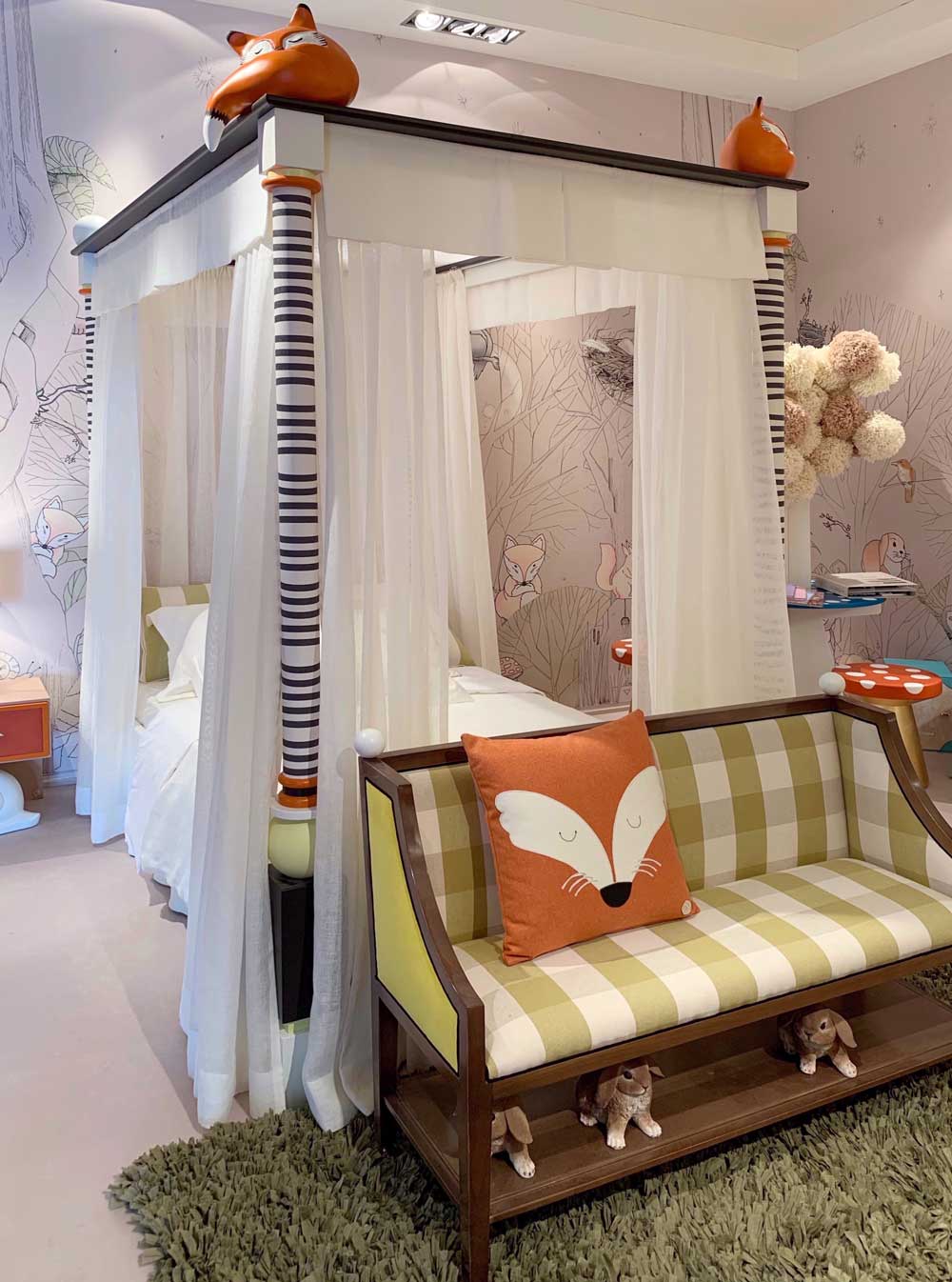 FEATURE WALL FUN
Kids crave colour, fun and excitement and a great way of bringing that into a kid's room décor is with a feature wall. There are so many fun and playful wallpapers on the market that make for cool kid's rooms! Not into wallpaper? Murals, or feature paint colours work just as good. And if you are looking for a solution that will easily grow and transform as your kids do, opt for a neutral wall colour and liven it up with wall decals which are easy to remove at a later date.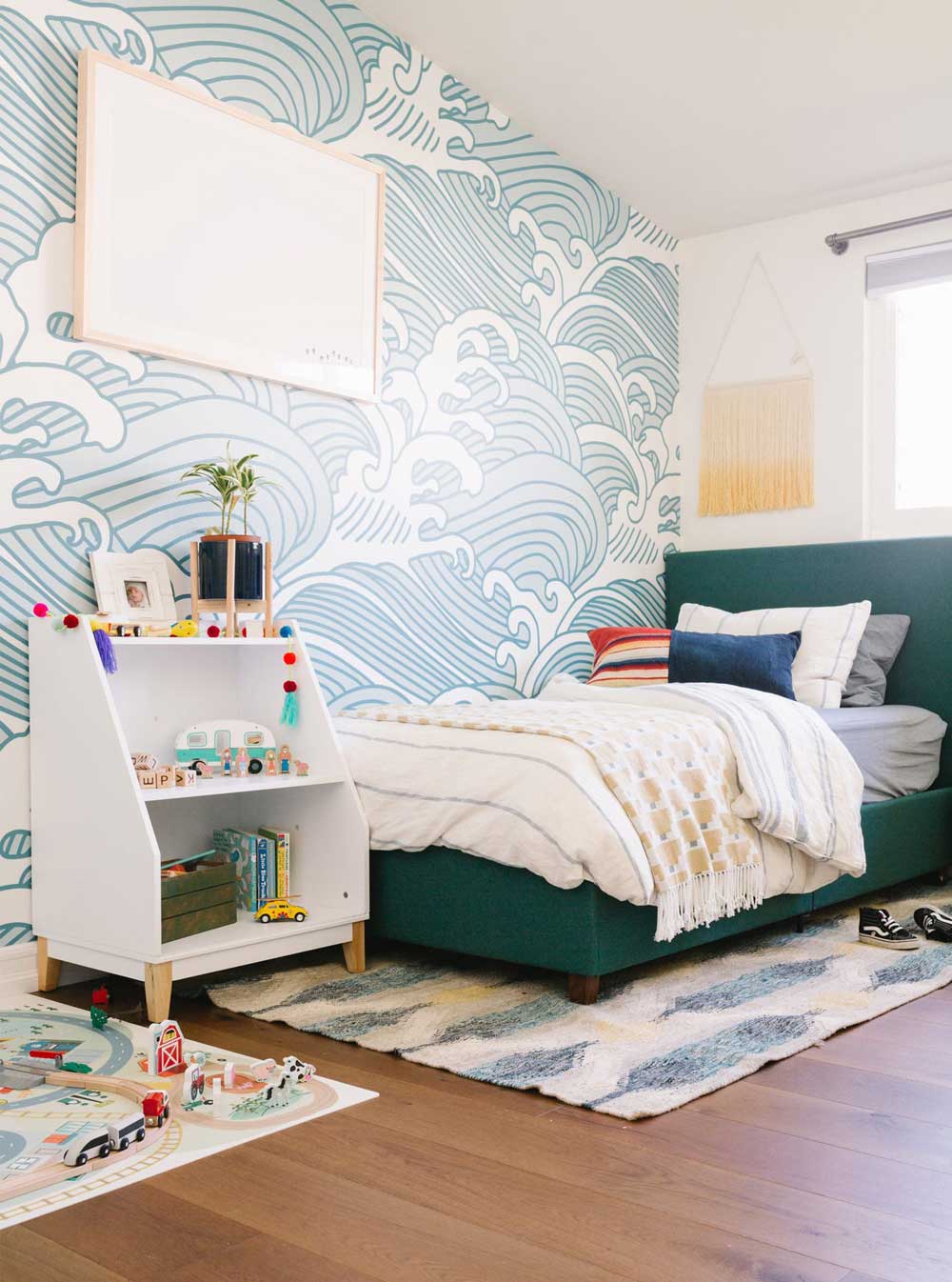 LEAVE ROOM TO PLAY
In many homes today, space is tight and there is rarely the space for a dedicated playroom, but you don't need one, by creating zones in children's rooms, they can be both a place for sleep and play national by morrock.com. A play area in your kids' room might be a reading nook or comfy chair, a dolls house or lego corner, an arts and crafts station or kids only crawl space, the options are endless.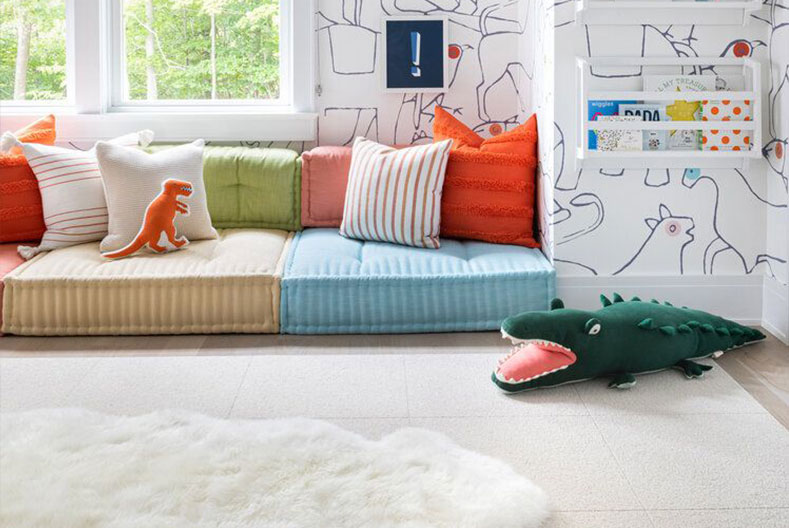 GET CREATIVE WITH STORAGE
Kids are notoriously bad at keeping their rooms tidy, so smart kids room storage is essential, give them the tools to keep everything organised at a height that works for them. Cubed shelving systems with pull out baskets are ideal. Kids can see what is in them and very easily pack them back up again.  Wall shelves are a great as the provide storage without taking up floor space, hooks are great for hanging coats and school bags and pegboards are great organisers for artwork and newsletters.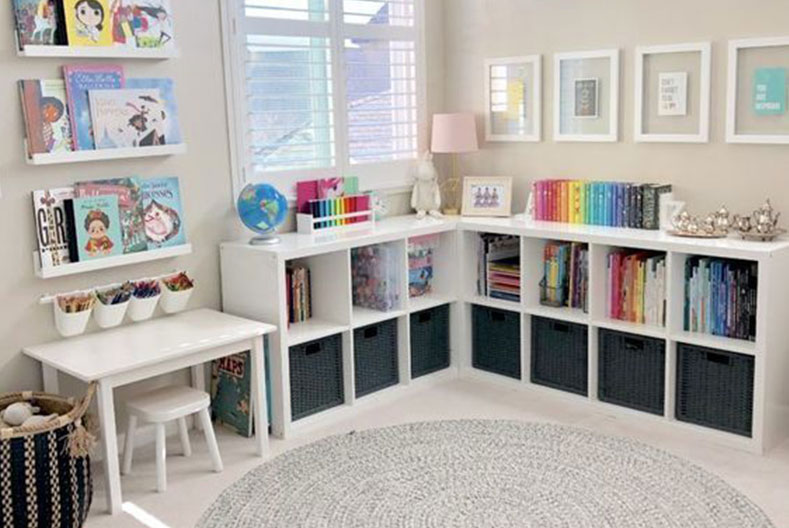 MAKE HOMEWORK FUN
Entice kids into doing their homework by creating a desk area where they will truly want to sit down and work. Somewhere that once they have finished their homework, they'll happily stay on and draw or read a book.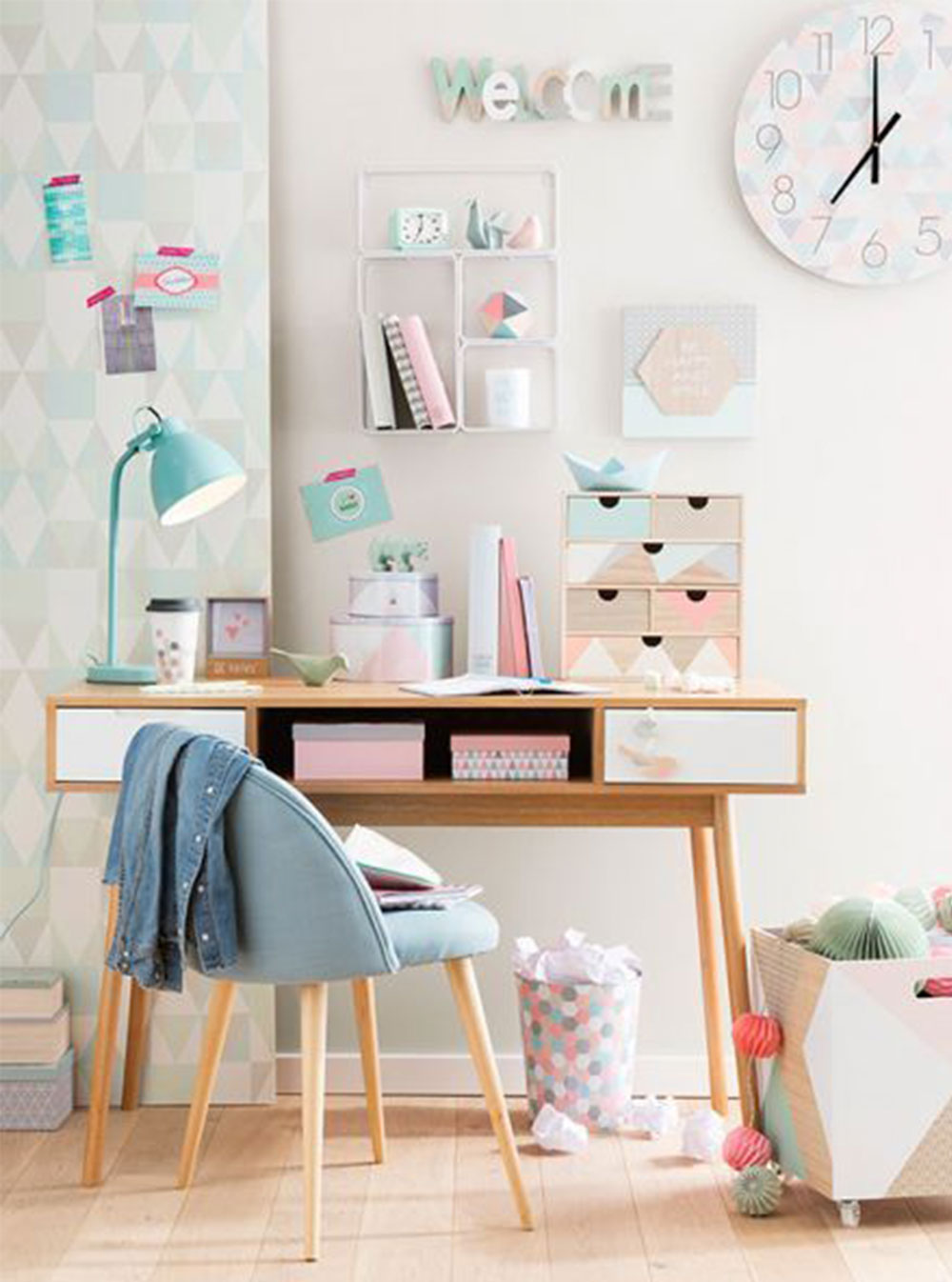 BUNK BEDS
Bunk beds can be an endless source of inspiration and create very cool kids' rooms. Take ordinary bunks to the next level with fort-like build-outs, curtains, slides, stairs, colour, and bold wallpaper backdrops.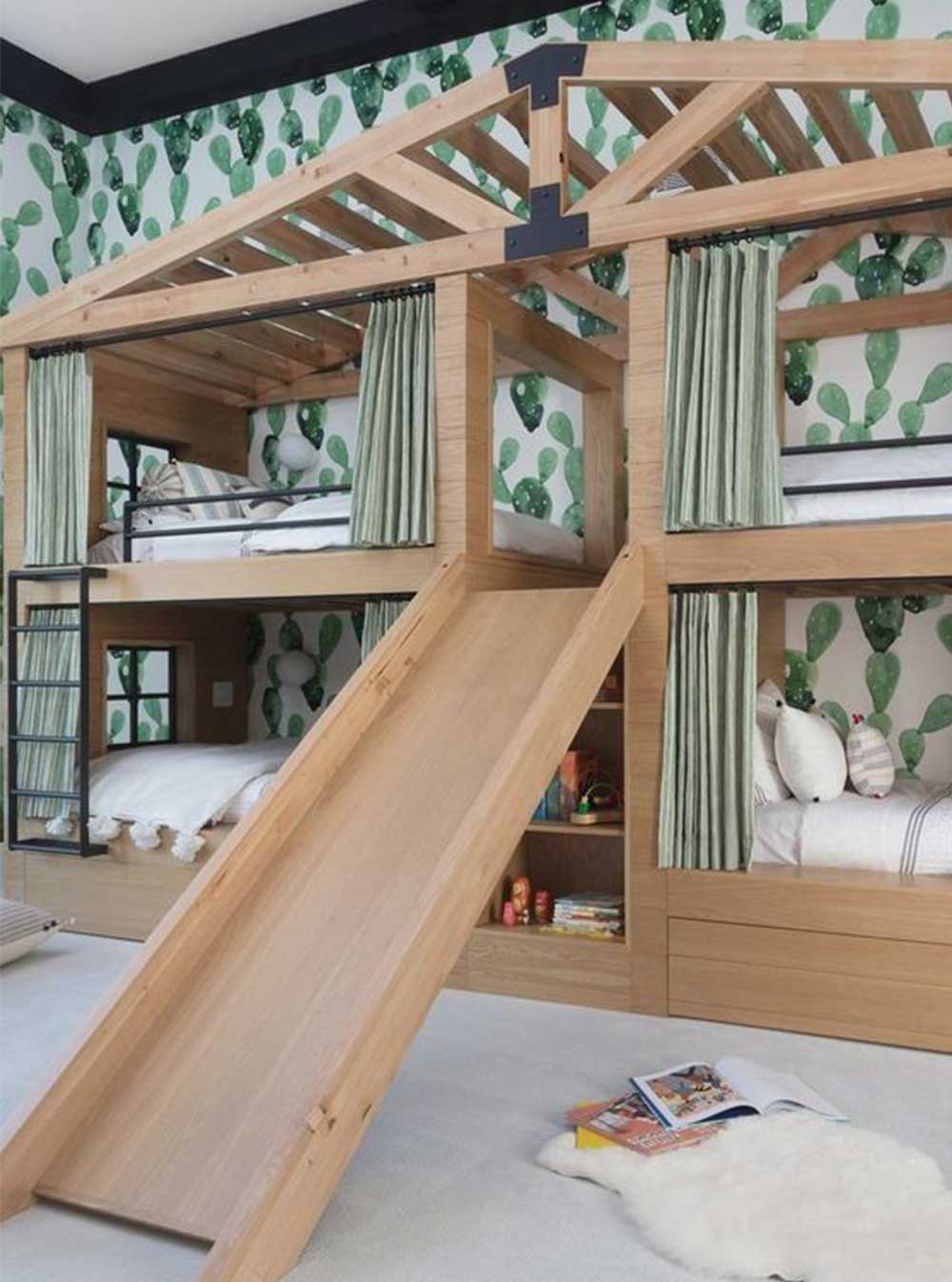 ENCOURAGE IMAGINATION
Create a space that enables your kids' imagination run wild, somewhere to escape reality and live a fantasy and you might be surprised to see just how much time they want to spend in there.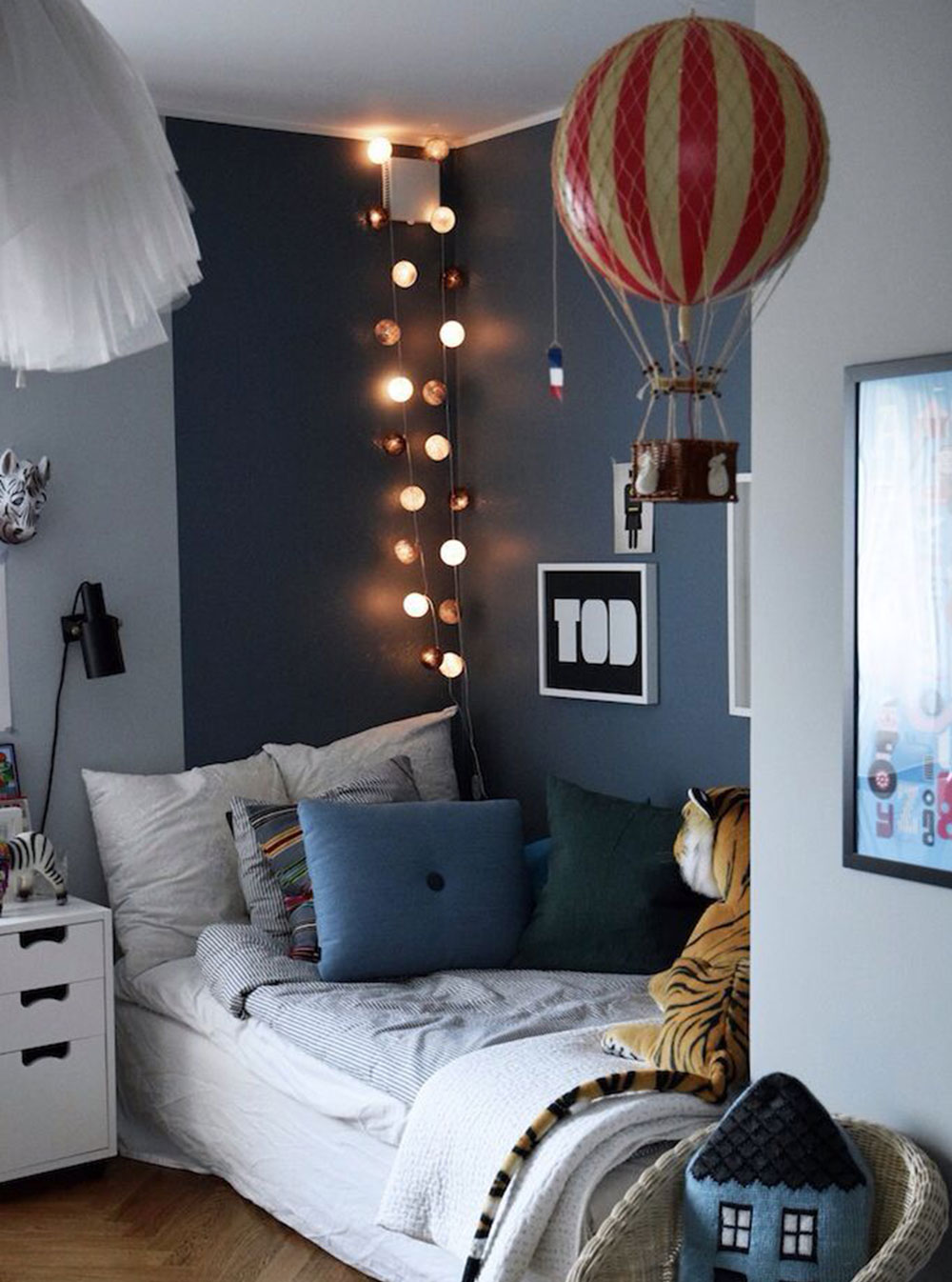 CLIMBING WALL
Get kids off their smartphones and gaming devices and instead burn off some of that excess energy by installing their very own climbing. Not only does a climbing wall encourage active play, it also reduces boredom and makes indoor play lots of fun. Just be sure to have some crash pads that can be stored away when not in use.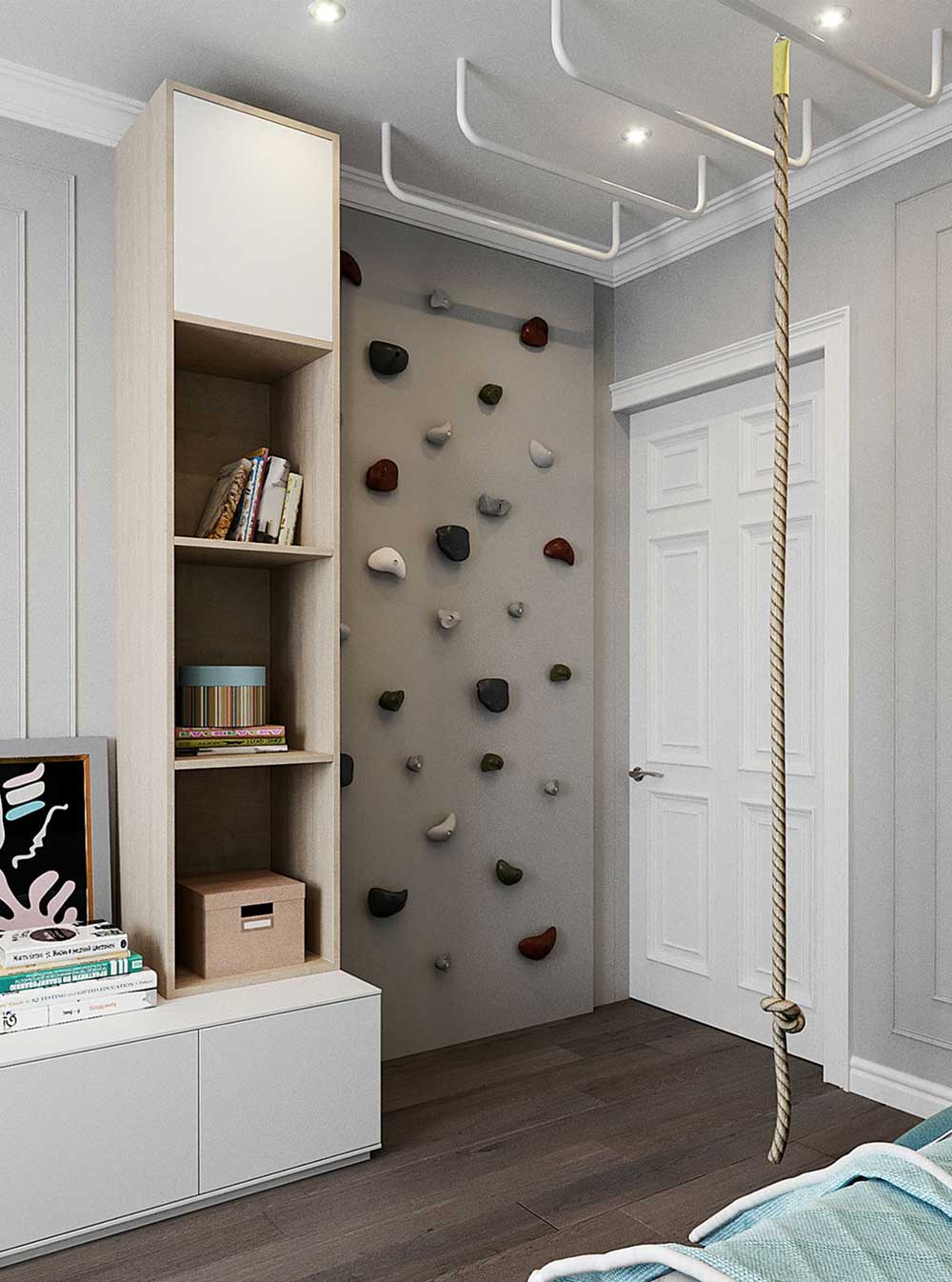 BEST CARPET AND FLOORING OPTIONS FOR A KIDS ROOM
With kids' rooms being so much more than just a sleeping space how do we ensure we have a floor that lasts the distance and doesn't cause you too much stress along the way?
Whether you have toddlers or teenagers, flooring that is comfortable, durable, and easy to clean is what comes to mind when we think of flooring for kids' rooms.
Young children tend to spend a lot of time playing on their bedroom floor, and so warmth, softness and comfort are important selection criteria. And children of any age can be messy, so flooring that is durable and easy to clean is also worth investing in.
The key is to find a child-friendly floor that is durable enough to stand up to a bit rough treatment, but also soft enough to provide a safe landing in case of falls.
Carpet for kid's bedrooms
There is no better surface than carpet for children to run, jump, play, read, and fall down on. Carpet traditionally is high on comfort level however low on cleanability but with our Rhino Carpet you need not worry! Forever stain-free and able to live up to a Rhino, you couldn't find a better option to withstand the messiest child! Plus, its luxuriously soft and your kids will find themselves wanting to do carpet angels on it! Carpet is also ideal when your child's room is positioned above other rooms in the house – paired with a quality underlay like Dunlop Dreamwalk Carpet Cushion  you'll dampen the sound of kids jumping on beds, play-fighting and dancing to their favourite music.
Laminate for kid's bedrooms
Laminate's technology and structure ensures a certain softness or bounce that other hard floors don't have.  Many will know what happens if you drop a glass on tile – you'll have a dangerous mess to clean-up. However, laminate will absorb the shock and the item will generally bounce-off it. If you are worried about the cold feeling of wooden floors in your kids' room hard flooring can easily be paired up with an area rug to create the perfect combination.  A rug can be spot-cleaned when it gets stained and then switch it out for another one with little guilt or too much cost – even better you can order a rug from us made from our Rhino carpet to be really worry-free!
Vinyl for kid's bedrooms
What? In a kids' room?!! Why not? Sheet Vinyl and Vinyl Planks or LVT have fabulous characteristics including being;
Low maintenance and easy to clean. Perfect for messy kids.
Water-resistant. Those spilled drinks (and not to mention other wet accidents) can be easily wiped up.
Underfoot comfort. Vinyl does not get cold in the winter and is generally soft beneath your feet.
Cost-effective. You can pick up a great looking vinyl much cheaper than other flooring products – vinyl designs today can look as good as any wood and tile on the market.
Durability and stain resistance. Vinyl is a highly durable material that, if properly installed and maintained, can last upwards of ten to twenty years.