The proud flooring supplier of The Block NZ Firehouse
Apartment 1 – Lisa & Ribz
Lisa and Ribz used our Malmo Exquisit Laminate in Nostalgie Teak Graphite throughout their entire apartment and were the only team to forgo carpet. They were also the only team to use a hard floor in their Master Bedroom, a room with a bold green feature wall but anchored by their rich brown floor lead them to their only room reveal.
Malmo Exquisit Laminate radiates warmth and is as pleasant to walk on as solid wood. Its embossed grained and matte surface shimmer gives it an authentic look. Its scratch resistant, durable properties makes it a perfect hard floor option for busy families.
Using hard floor in the entire house is a modern yet practical choice of flooring and really fitted the New York loft feel of the apartment.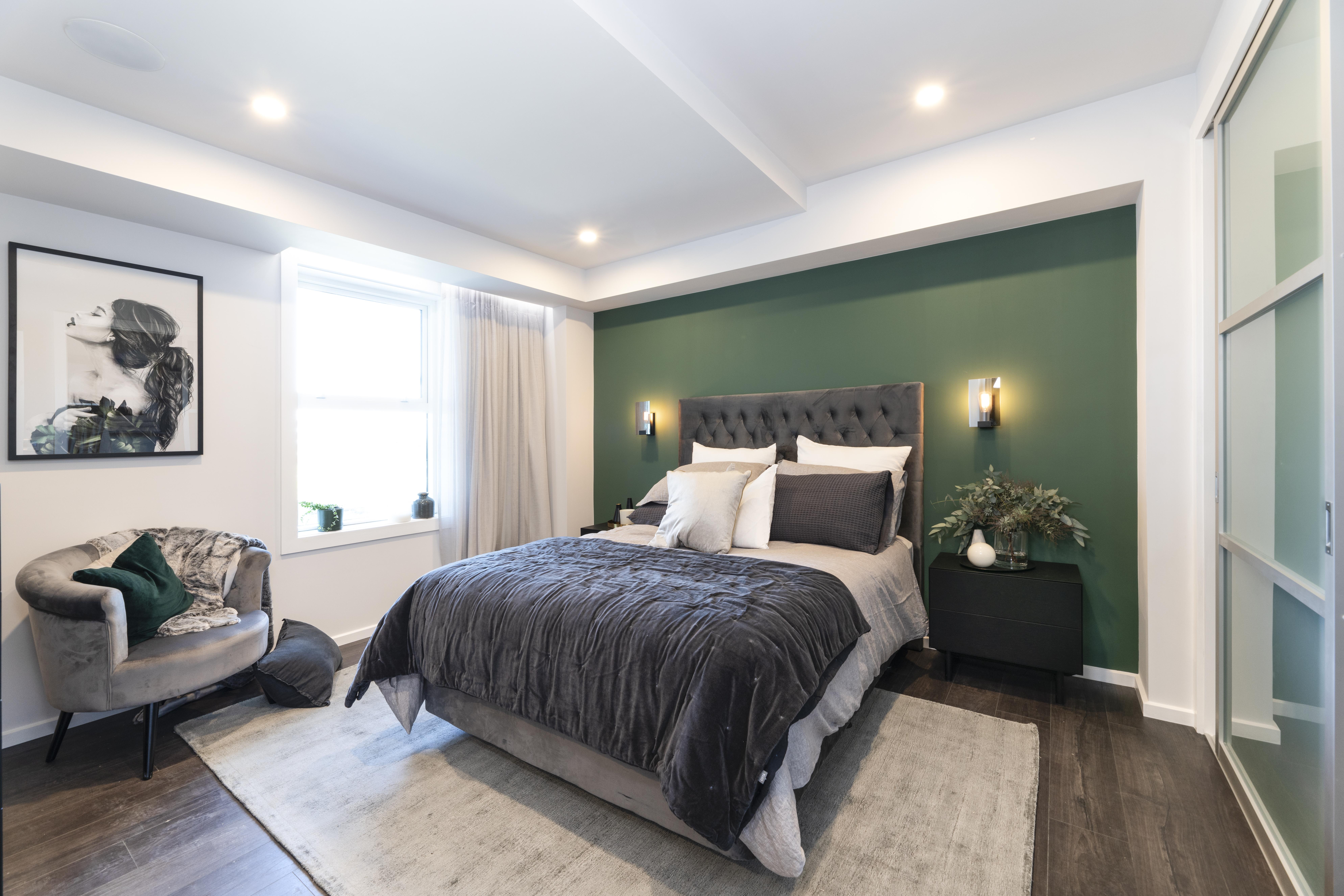 Apartment 2 – Stacy & Adam
Stacy and Adam went for a mix of light and dark flooring in their house to create a strong contrast. They chose Rhino Portland in Skywalker a dark charcoal colour for their kids bedroom, which they went on to win. Rhino Carpet is perfect for homes with kids and pets because when spills and life happen, it won't leave a lasting impact on your carpet.
The couple chose a warm honey coloured oak look floor (Waveless Oak Nature) from our Malmo Exquisit Laminate range to use in their kitchen, dining and living space which was a winner with the judges. The embossed grain and matte surface give it the authentic look and feel of warm natural wood.
The strong contrast between the dark carpet and the light wood-look flooring worked really well in their stylish and modern home.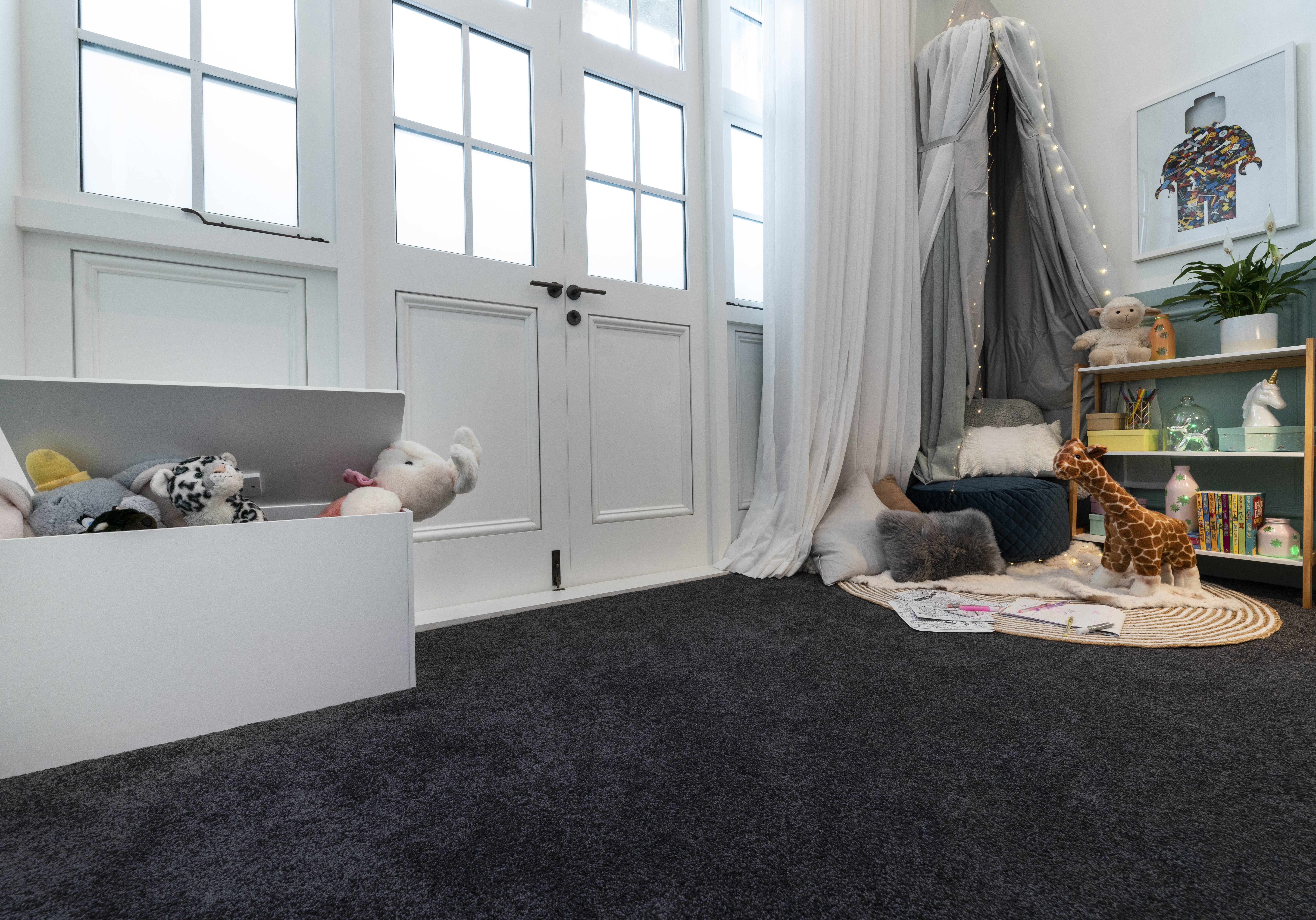 Apartment 3 – Ethan & Sam
Ethan and Sam chose to use our Malmo Exquisit Laminate in Prestige Oak Light throughout their kitchen, hallway and living areas. The Malmo Exquisit Laminate radiates warmth and is as pleasant to walk on as solid wood. The contrast of the light floor with their darker hues throughout the house worked really nicely at creating the perfect balance of colour.
In the three bedrooms the boys opted for our exclusive Rhino Portland carpet in Dried Peat, a slightly darker carpet to offset the lighter tones used on the walls and throughout the furniture. Portland has Rhino's patented Forever Clean technology making it easy maintenance for those with pets and families because of its stain resistance and easy to clean technology.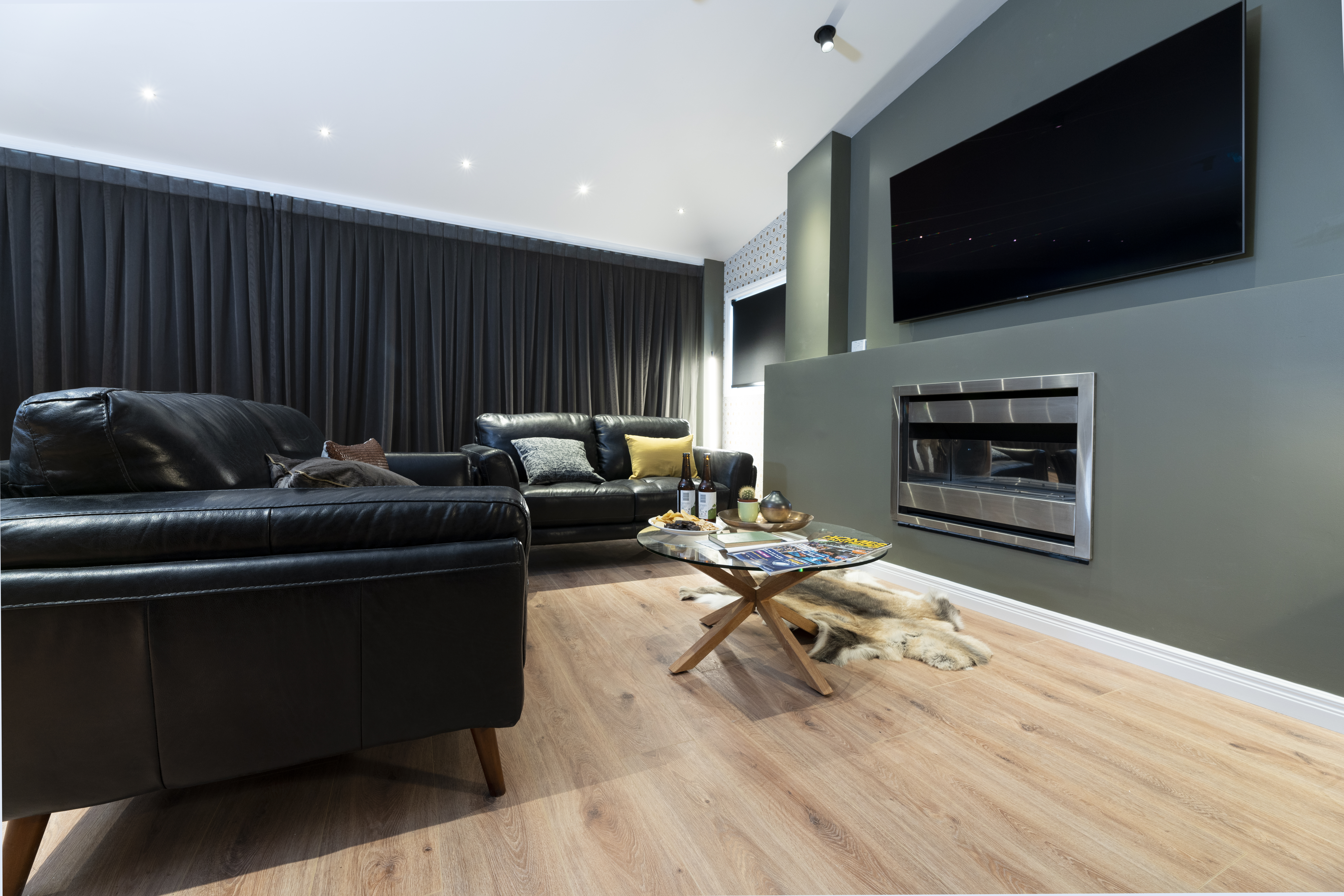 Penthouse – Sophia & Mikaere
Sophia and Mikaere choose to use our Rhino Portland Carpet in Vader in the bedrooms of their Penthouse Apartment. This dark charcoal grey colour works great in these spaces as it creates a cosiness while adding depth.
For the kitchen, dining and living space they choose our Malmo Mammut Laminate in Makro Oak Light Grey. The soft grey colour provides a great contrast with their light walls and dark carpet. The extra long planks of Malmo Mammut are great for making a small space appear bigger and a large space less busy as the shorter the plank the busier it will look.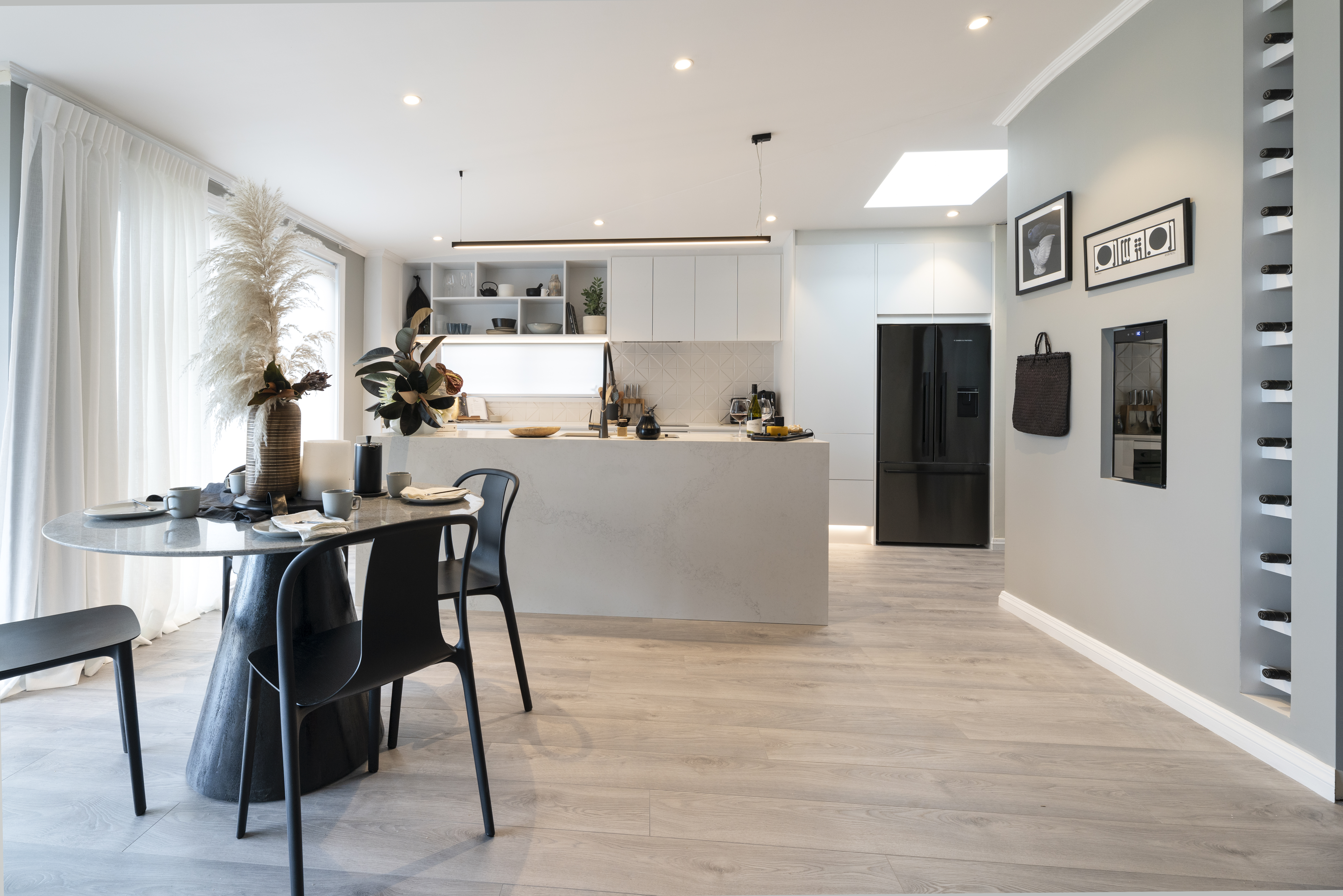 See something you like? Pop into store and one of our friendly team will help you get the best look on your block.