Planning to upgrade your boys bedroom? There is a lot to keep in mind when it comes to designing your son's space. While he may want superhero wallpaper or a car shaped bed, you would probably prefer décor that will last for as many years as possible. We have found 10 boys bedroom ideas to inspire you to create a space your son will love from a toddler to a teenager.
MINIMALISTIC SUPERHERO
Is your little man a big Marvel or DC fan? We bet he would love a superhero themed bedroom! You might be worried he will grow out of this interest though, and that's where this idea comes in. Purchase superhero prints off Etsy and frame them, creating a mini gallery wall. This way, if your son does grow out of his superhero phase, it will be easy (and cost effective) to switch them out.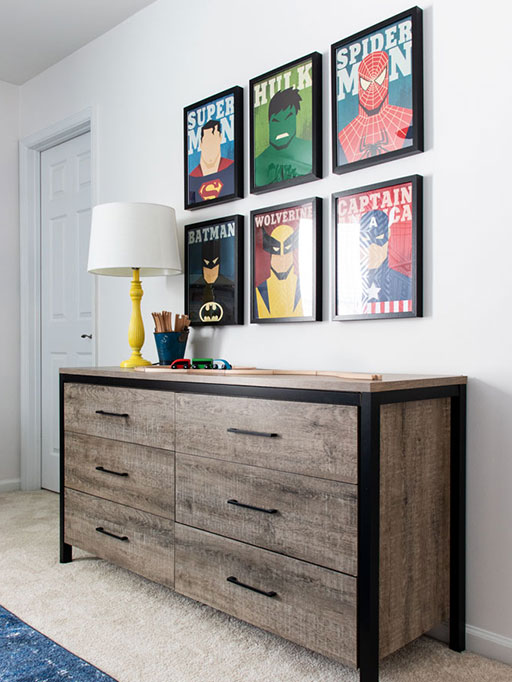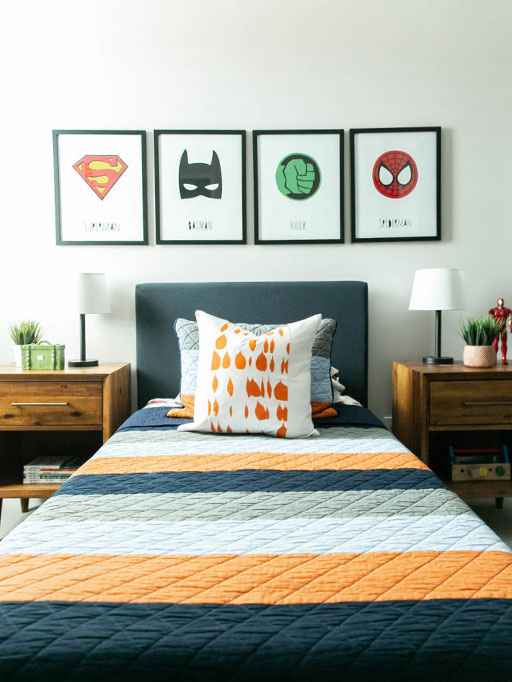 BOLD AND BLUE
You can never go wrong with a blue boys room. If you don't want to commit to an entire blue wall, accessorise with other big items such as a blue dresser, headboard, rug or curtains. Navy blue will never go out of style.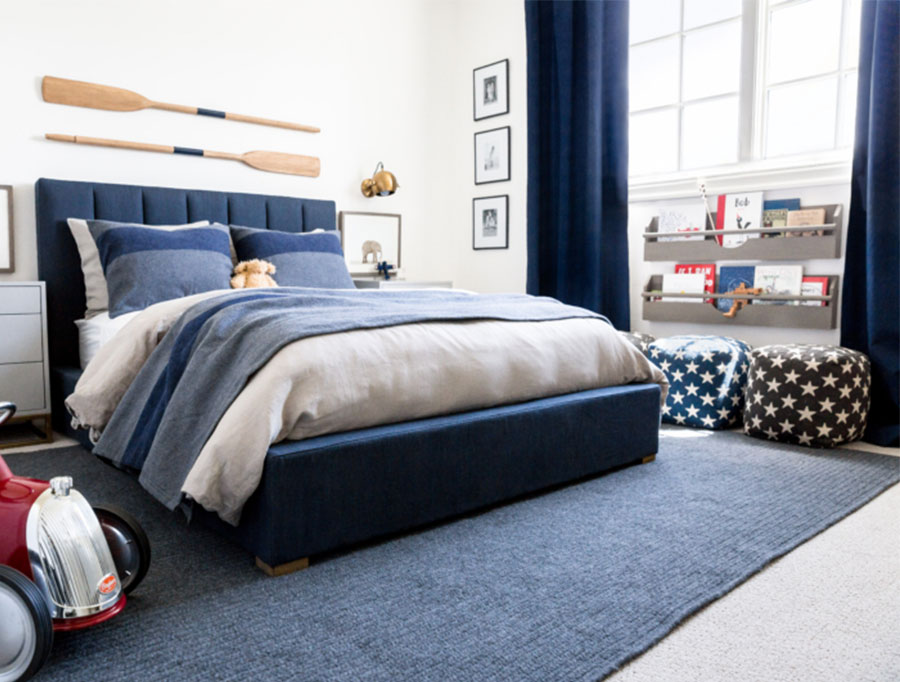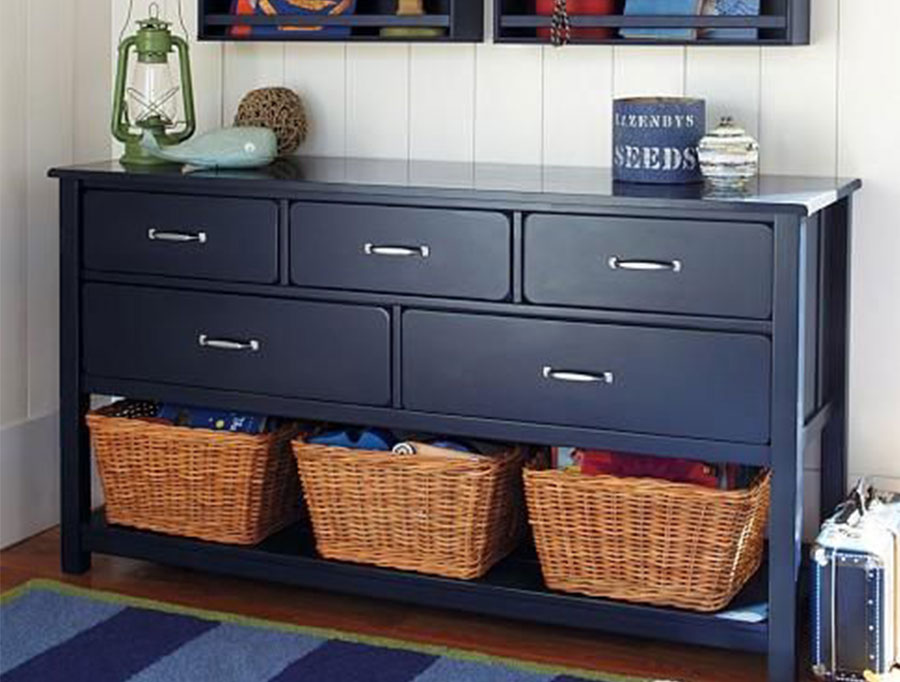 READING NOOK
Create a special and cosy spot for your child to read their favourite books. This is a great way to encourage reading.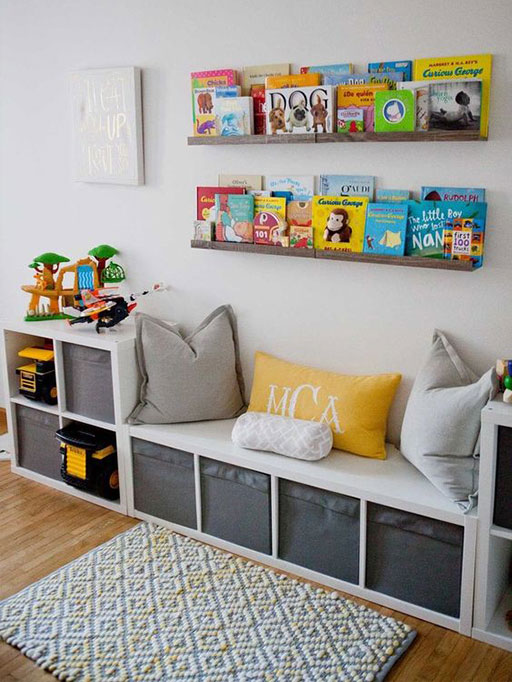 LOFT BED
Once your son sees a loft bed, he won't stop talking about it. Loft beds are a cool bedroom idea for smaller spaces and are a fantastic way to separate sleep from play. Underneath the bed can be used for play, homework or hanging out.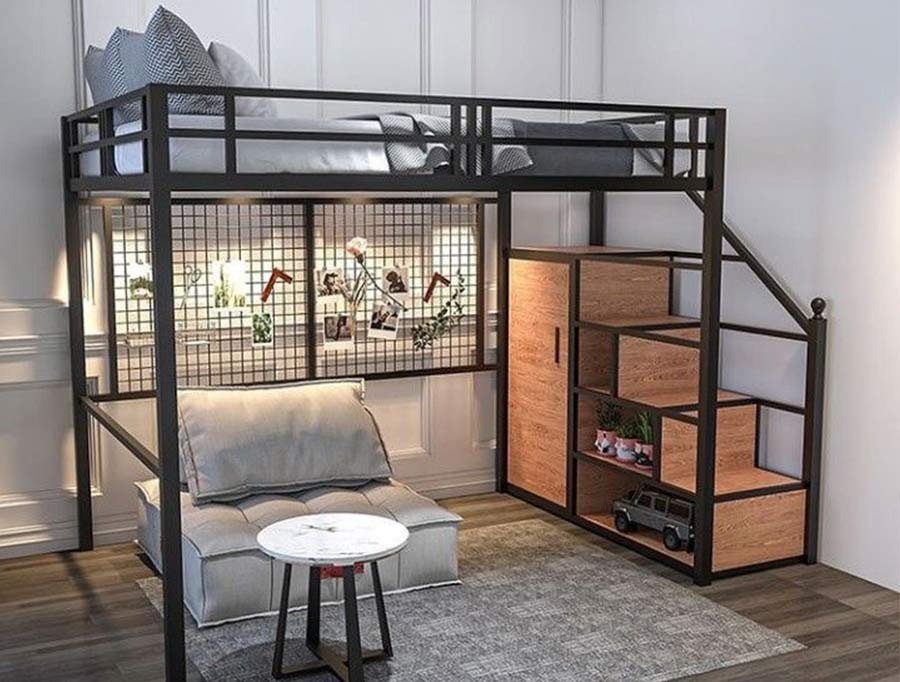 MONOCHROMATIC
A monochrome colour palette will stand the test of time as your son ages. If you go for black and white, consider adding a pop of colour with your boys room décor. Darker variations of primary colours such as navy blue, mustard or forest green work really well with this colour scheme.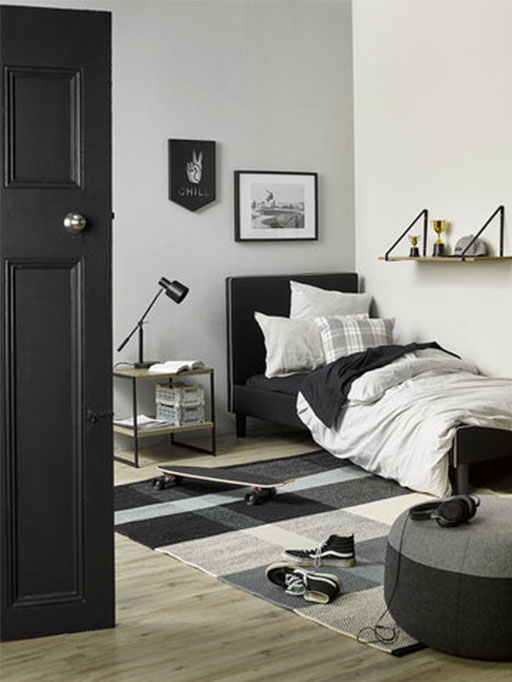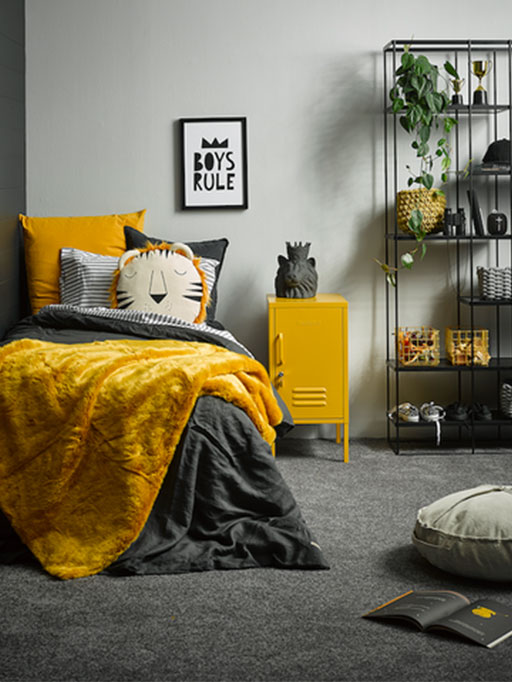 GEOMETRIC
It's easy to get overwhelmed with patterns so instead try geometric shapes. They are simple enough to mix and match without clashing and just one simple décor item can enhance the room. Painting a wall is an easy way to add interest to a room and by painting a triangle between two adjoining walls (as pictured) it can make a small room feel much larger.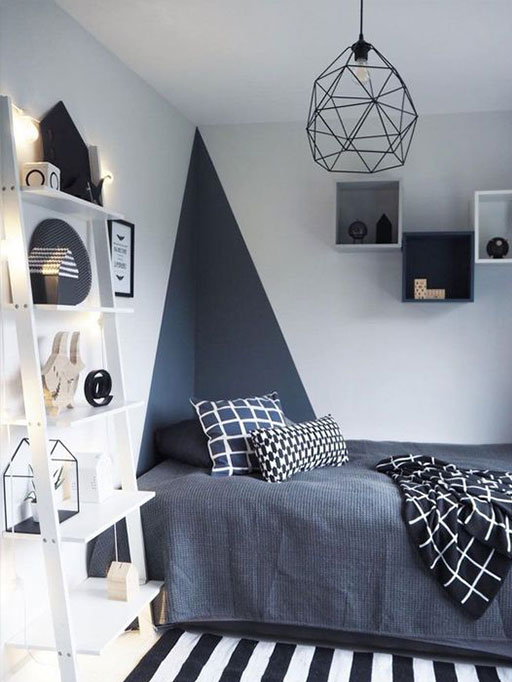 INCORPORATE THEIR HOBBIES
Does your son love skateboarding, surfing or mountain biking? You might have a few old boards or parts that can be upcycled for your boys bedroom décor. We love the look of these shelves that can be used to show off their passion, as well as their favourite books, photos or trophies.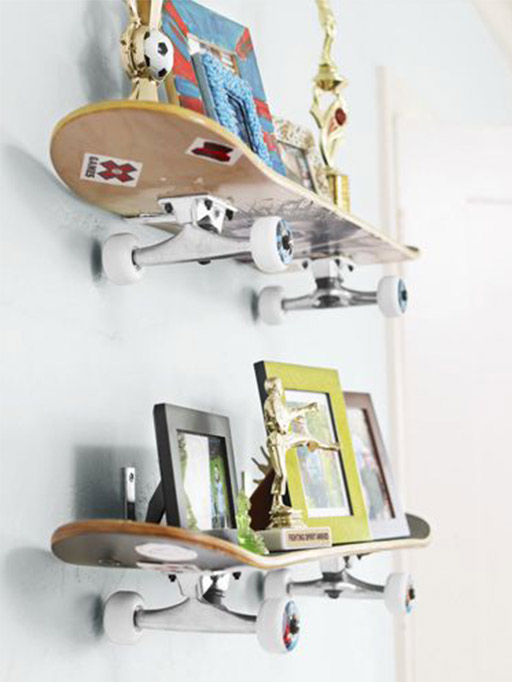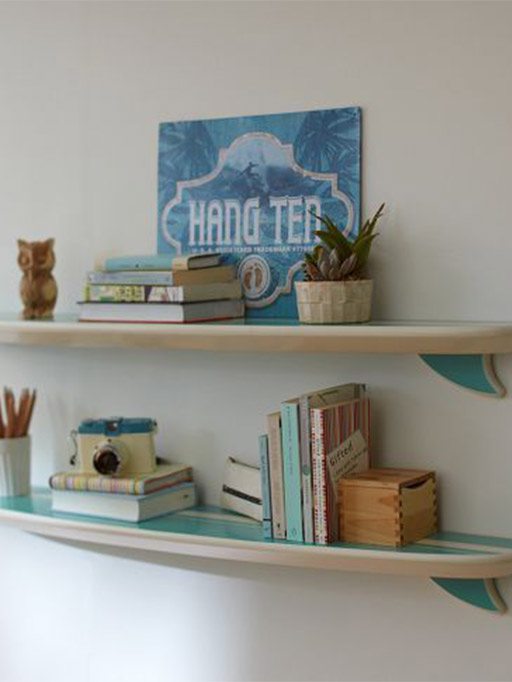 FEATURE WALLPAPER
Make your boys room one of a kind with fun wallpaper. Choose an eye-catching design and you can keep the décor and accessories to a minimum. The wall will speak for itself and your son will love showing his friends.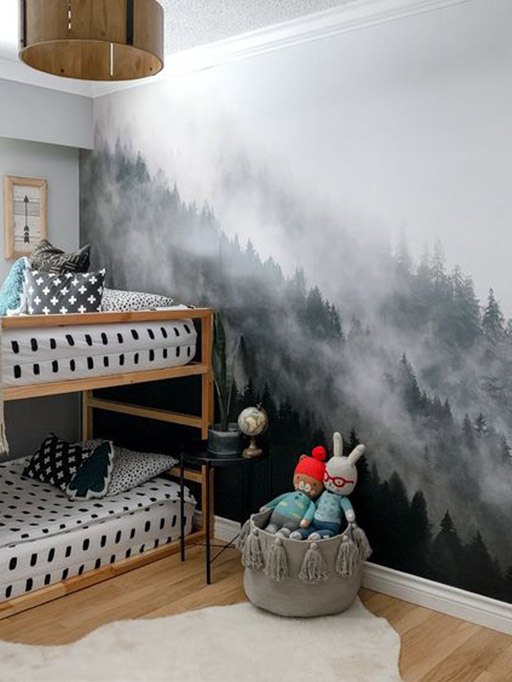 TRUNDLE PLAY STATION
Use the space beneath your boys bed for an extra play station. Not only is this great fun for your son, but it also makes tidying up easier.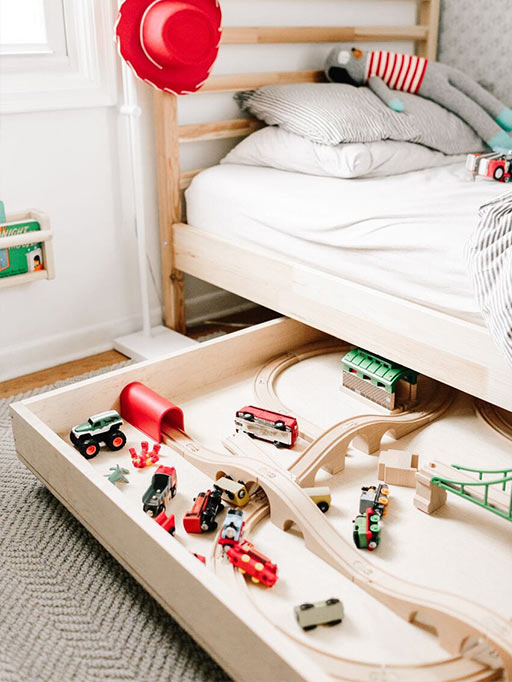 GONE CAMPING
We have all enjoyed making blanket forts in our time, so why not reminisce and build your son a permanent one but tent style! This is an easy DIY job that can be achieved using fabric or you can buy a pre-made canopy. Finish it off with a string of lights and your son will feel like he's camping underneath the stars.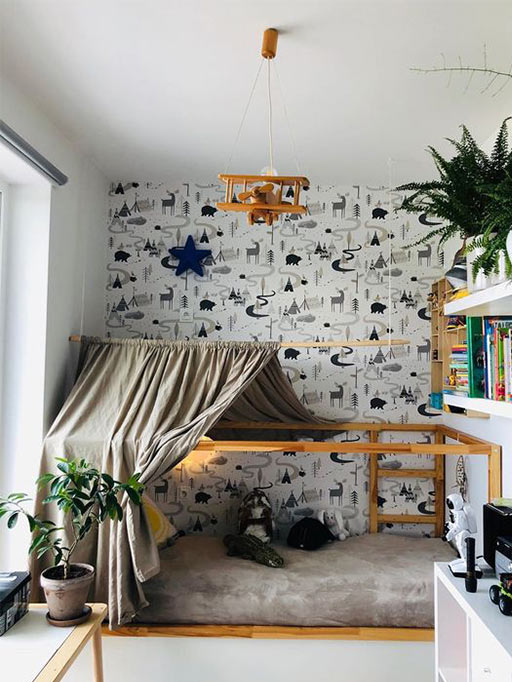 Best carpet and flooring options for boy's bedrooms
Your boy's bedroom is their place to play, learn and sleep. How do we make sure the flooring is fit for all purposes and won't cause you too much stress along the way?
We have to consider comfort, durability and easy to clean when it comes to rooms for kids of all ages. Young children tend to spend a lot of time playing on their bedroom floor, and so warmth, softness and comfort are important selection criteria. And children of any age can be messy, so flooring that is durable and easy to clean is also worth investing in.
The key is to find a child-friendly floor that is durable enough to stand up to a bit rough treatment, but also soft enough to provide a safe landing in case of falls.
Carpet for boy's bedrooms
There is no better surface than carpet for children to run, jump, play, read, and fall down on. Carpet traditionally is high on comfort level however low on cleanability but with our Rhino Carpet you need not worry! Forever stain-free and able to live up to a Rhino, you couldn't find a better option to withstand the messiest child! Plus, its luxuriously soft and your kids will find themselves wanting to do carpet angels on it! Carpet is also ideal when your child's room is positioned above other rooms in the house – paired with a quality underlay like Dunlop Dreamwalk Carpet Cushion, you'll dampen the sound of kids jumping on beds, play-fighting and dancing to their favourite music.
Laminate for boy's bedrooms
Laminate's technology and structure ensures a certain softness or bounce that other hard floors don't have. Many will know what happens if you drop a glass on tile – you'll have a dangerous mess to clean-up. However, laminate will absorb the shock and the item will generally bounce-off it. If you are worried about the cold feeling of wooden floors in your kids' room, hard flooring can easily be paired up with an area rug to create the perfect combination.  A rug can be spot-cleaned when it gets stained and then switch it out for another one with little guilt or too much cost – even better you can order a rug from us made from our Rhino carpet to be really worry-free!
Vinyl for boy's bedrooms
Sheet Vinyl and Vinyl Planks or LVT have fantastic characteristics including being;
Low maintenance and easy to clean. Perfect for messy kids.
Water-resistant. Those spilled drinks (and not to mention other wet accidents) can be easily wiped up.
Underfoot comfort. Vinyl does not get cold in the winter and is generally soft beneath your feet.
Cost-effective. You can pick up a great looking vinyl much cheaper than other flooring products – vinyl designs today can look as good as any wood and tile on the market.
Durability and stain resistance. Vinyl is a highly durable material that, if properly installed and maintained, can last upwards of ten to twenty years.