Building a smaller home or downsizing your lifestyle doesn't mean you can't get the most out of the décor in your bedroom!
At Carpet Court, we appreciate that everyone will have a unique sense of style reflected in their interior design, but it can prove challenging when you're limited on space. Fortunately, there are a few tips and tricks you can use to maximise both beauty and space in any room. In this article, we have compiled our top 5 ideas to refresh or enhance your bedroom layout or décor.
1. Carpet Colour Ideas for a Small Room
Timeless, neutral colours are fantastic options when brainstorming small bedroom ideas. White and light colour schemes help to make any room appear more spacious, so why not harness this theme to help your room seem bigger than it is? Choosing these colours will also lend your space an enduring appeal, as neutral colours rarely go out of style!
If you enjoy brighter, bolder colour palettes, choose an uplifting shade like yellow to refresh your space. When used to complement one another, the wall and carpet colour will help any room feel airy and spacious. You can add to your theme with bedding, accessories and rugs to fully flesh out the style in your bedroom.
If you are having trouble finding the perfect colours for your space, take a look at our Carpet Court colour guide to get inspired for more small room ideas.
2. Small Bedroom Furniture Layout Ideas
We all generally accept a 'traditional' layout for our bedrooms – the bed in the centre of a wall, two-night tables on either side, with a dressing table or statement piece of furniture for decoration as much as practical use.
Well, this is not always an ideal layout to maximise space in smaller rooms!
Instead, think of small bedroom ideas to help you feel less overwhelmed. Perhaps have most of your furniture against one wall or simply minimise the number of pieces you try to work with.
3. Built-In & Bespoke Storage Ideas for a Small Bedroom
Unfortunately, it isn't uncommon for irregular angles and hard-to-reach spots to appear in small bedroom designs. These décor challenges can be easily overcome with bespoke storage ideas, including personalised fitted wardrobes, pigeonhole shelving, curved corner rails or pull-down hanging storage.
The ideas are endless!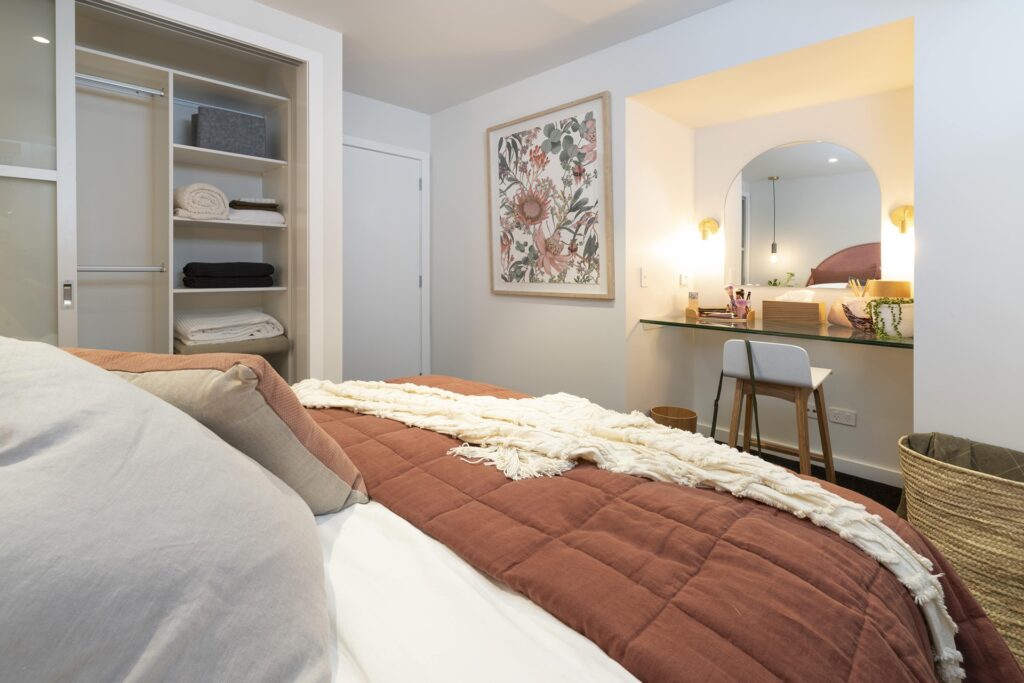 While some of these options come with a higher price tag, they are worth the investment as they have the potential to revolutionise the way you use space in your small bedrooms.
You can even go one step further with your storage solutions and opt for a built-in design that can then be hidden away for a streamlined effect. A classic space-saving solution along these lines is the walk-in wardrobe. If this is a viable option for your small room, why not include space for a dressing table or desk, so you can free up space, hide away errant objects and keep your small bedrooms free of clutter?
4. Multifunctional Furniture Ideas for a Small Room
If you are limited with space, nothing is as helpful as a quality piece of multifunctional furniture. These lifesaver items can come in many forms, so why not look for a stylish ottoman that can also act as storage for extra linens and blankets? Or keep your small bedroom clutter-free with practical ideas like a headboard with built-in storage?
No matter what you choose, multifunctional furniture is ideal for keeping those stray items at bay for a tidy look that is easy to maintain.
5. Feature Walls & Other Refined Decorative Ideas
Experimenting with décor ideas for small bedrooms is both fun and highly practical. When you work with bold colours and unique accent walls, you can create a striking feature that is a focal point for your smaller area. This can also help to create the illusion of space in the rest of the room, particularly when you pair your colourful creation with crisp white sheets or simple lines.