Lara and Ben bought a rundown caravan as a spur-of-the-moment decision with plans to do her up and have it for future family holidays. Now 'Daisy', with her simple but stylish interior is the perfect mobile holiday home.
What inspired you to take on a caravan reno?
Whilst planning our South Island honeymoon trip, we saw an old caravan pop up on Trademe – we thought it would be the perfect way to travel around and we would have it not only for that trip but for family holidays in years to come. We also love a project!
What was your design vision for the interior?
We just wanted it to be a calm relaxing space perfect for summer holidays! We achieved this with a great spacious layout and neutral colour palette. The timber shelving and benchtop add warmth and texture and the patterned floor was our point of difference.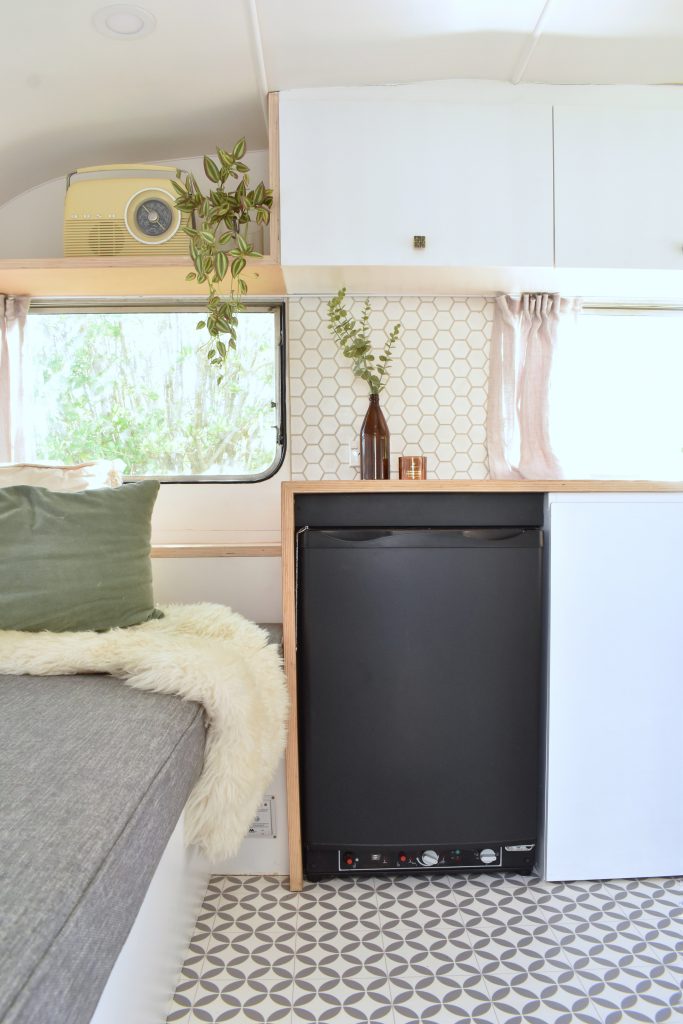 Why did you choose Carpet Court for your flooring?
Carpet court had the perfect vinyl style we were after. We were looking for something a bit different, a bit of a statement to go with our neutral colour palette. We found Carpet Court had a great range and were great to work with.
How easy did you find the process for choosing and installing your flooring?
We're pretty good at choosing and making decisions so we didn't take long to decide the Magali design was the one. After that it was really easy to order the square metres we needed and we picked it up from store a few weeks later. Ben installed it himself and it was a hassle free process.
How practical is the vinyl flooring?
Really practical and user friendly – after a month in campgrounds and beaches with dirty shoes and sandy feet it still cleaned up as good as new. It's so easy to sweep out or wipe clean.
What would be your 5 top tips for styling a small space like this?
Keep it light and bright
Organise the layout/space well from the start so it feels spacious
Calm neutral colours
Keep it simple and unfussy
Paint the walls white and add warmth with texture and awesome flooring